Hey you! Yes you, don't look behind you I am talking to you!

Do you want to lose this weight? Do you want to get to your dream size and KEEP IT OFF? I have the secret... you aren't going to believe it when I tell you this... okay, I've kept you in suspense long enough. The secret to having the healthy body you want and finally dropping those pounds for good is...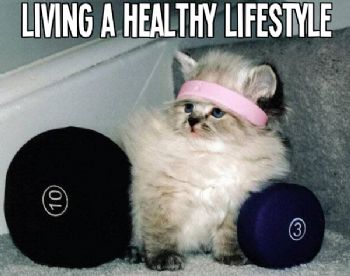 Okay, at this point the average person would walk away from me or stop listening. They do not want to hear that at all. They want to hear what supplement, pill, shake or program they can buy to get the results that I have. But you are different, you are a Spark Person! Not to act all high and mighty, but us Spark People have the edge on the Average Joe's!

If you have been on Spark for sometime you know that weight loss isn't something you do until you lose the weight. You know this isn't a diet that you go on only to go off of it a few months later. You know this is a full on lifestyle change, where you track your food (or at least monitor calories to an extent) and you make sure that fitness is part of your routine. But before Spark People, maybe you were like myself.
Stephanie-BSP (Before Spark People)
Stephanie-BSP was a very different person. She was a person who spent lots of $$$ on things that she thought would get her to her goal weight. You see, at 272 pounds, she was DESPERATE to lose this weight. She was a sad person who was overwhelmed by the amount of weight she had to lose. Deep down she knew a healthy lifestyle change was the way to go, but that just seemed too dang hard.

She wanted magic!

She wanted the Weight Loss Fairy to come while she was sleeping and wake up at her goal weight.
Eventually she gave up on the Weight Loss Fairy and decided to waste a lot of time and money on things that don't work, let's list a few.
Alli, Trim Spa (back in the day), Countless weight loss pills and supplements that I don't remember the names of, low carb diet, cabbage soup diet, detox diet, 4 day diet, Jenny Craig, Nutrisystem, Weight Watchers... and well, you get the point.

(Disclaimers at the bottom of this post)
I was desperate to lose weight, and I spent so much time and money on those things. Some I lost quite a bit of weight, but it never lasted because I looked at them as diets that I could go off of when I was "done". Boy was that wrong.

Don't let me catch that gleam in your eye! Are you wondering about one of those diets because you haven't heard of them? Well don't bother, because they don't work LOL. I am guilty of that to this day. I have lost almost 85 pounds through tracking my food and exercising. I have not cut out any foods and nothing is truly off limits. I have done this on portion control and counting my calories. It's really true what they say about calories in calories out. So why to this day do I still look at other "diets"? I don't go looking for them, but I hear a Sparker is doing a juice fast or started a such and such diet and I'm intrigued to go and see what it is all about. In my defense I have never actually done the diet (not in the last 18 months on this journey at least), but why is it that after all this time I still want to go and look? I guess there is always this part of us that is hoping there will be an easier and faster way to do this. We can be successful and still wonder if there is a better way.
These are my tips for finding the BEST weight loss plan for you (I know many might disagree):

Your eating plan is something you can stick with for the rest of your life. If you can't go low carb for the rest of your life, don't lose weight that way. If you can't go the rest of your life on a juice fast (who can?!), don't lose weight that way. Anything that you have to go "off of" at the "end" is not a healthy balanced lifestyle.

Find exercise you can stick to and ENJOY. Again, I will say don't do something you can't maintain for the long haul. I have seen people lose weight by exercising 3 hours a day because they were unemployed and had the time. As soon as they got a job and could no longer exercise that long, they packed back on the pounds. Find something you like to do so you will actually want to do it. You don't have to kill yourself with hours in the gym to lose this weight. We are looking for that balance. :)

If you are starting out start with small changes. Trying to do it all at once can be so daunting... I started with water... trying to get in 8 glasses a day. Then I started tracking all my food, not even worrying about the calorie range, just getting in the habit of tracking. Then I worked on staying in range and then adding in exercise. Doing it in stages helps so much and seems less overwhelming.

Use Spark for support or have an accountability buddy. We all have bad days, we all have days where we eat everything or don't exercise, that's to be expected. But when it turns into several days or weeks, have someone you can turn to remind you to keep your eye on the prize.

If you have ever said you were willing to do ANYTHING to lose weight, then why not do the one thing that is PROVEN to work and proven to make sure you keep the weight off?

Healthy Lifestyle For The Win!


My disclaimer is that I know Jenny Craig and Weight Watchers have been a huge success for many. I think out of all the programs, Weight Watchers is the same as a healthy lifestyle and counting calories. It didn't work for me way back when because I had a bad mentality. My mentality was if you can use all your points eating one meal at Jack In The Box and not eating anything else, then do it. BAD BAD BAD. That was my fault, not Weight Watchers. ;) Jenny Craig and Nutrisystem are great while you do them, but what happens when you go off of them? You still need to learn how to eat and cook for yourself. With that said if you can teach yourself those things after you go "off them" then you are golden. I in no way mean to talk poorly of those weight loss programs or anyone who chooses to use them, just saying they didn't work for me personally.