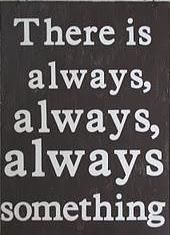 I have had nothing but problems with my new laptop for MONTHS! The problems started when my internet provider put a 'filter' as well as a complex password on my internet service to keep my neighbor out of my computers (the neighbor liked to get onto my connection and download lots of music - FREE - which I could have been billed for, and he also liked to actually get into my computers and add virus etc. as a harassment.) So, after several calls to internet tech service - where they showed more than just me on my connection - we added these other security features to keep out the neighbor. Only for some dang reason it has over and over and over kept me out of my own laptop. So, day after day I end up calling internet tech support to get service back to my laptop, and that only lasts for a few hours before it goes out again. Also, on some of those days when I called tech service, I got very stressed when the tech guy himself got very stressed - cause if a computer professional gets so stressed out that they are short of breath, you know there are serious problems. Well, then he told me to "get my computer down to him stat cause mal-ware was gonna 'crash' it if he didn't get it stopped immediately, and the mal-ware was even stopping him from taking 'remote control' to fix it. So, he needed to get 'hands on' to stop the mal-ware attack.
And, so problems again today: not getting computer connection, and having (more) mal-ware on my computer (this time not so far gone that he couldn't take 'remote control'). And, for some reason they don't understand, my laptop keeps changing it's 'address'. So, today was AGAIN spent with that stuff. Finally though we got the bugs worked out, and (hopefully) it will stay working this time.
I am beginning to feel like all my energy for a day goes to dealing with computer problems. But, on the phone with the tech guy I (managed) to keep my stress (contained) and get through the problems.
Then Chuck comes home from work, and hands me an envelope. I tell him "I am already stressed." The bill he showed me is a 'collection' for a conflict about one of the home construction jobs that was done poorly. Chuck asks if he should just give in and pay it, and have it over with. I say "Yes". He asks me again. I nod "Yes". He asks me again, and I lose it, saying, "YES, I said. How many times do I have to say YES? I told you I was already stressed, so what do you do but add more stress! Maybe since you can't seem to understand something, I will explain it to you. I am disabled! That means I can hardly get through MY day and take care of doing what I need to do each day to stay out of the nursing home. I can't handle your problems too!"
Course we're out in the yard when this happens - cause I never allow him in my apt. if I can help it - so now the neighbors could hear me yelling if they were outside. And, Chuck doesn't like anyone to hear anything, and wants to shut me up. Well, I am p#ssed! Here I am fighting to stay out of Assisted Living, and he is just adding another burden to my life. Isn't it enough that I did all the work of getting the home remodel done, and gave up my whole spring and summer in order to get it done. I told him when the remodel was done, except for a few loose ends, "That was all I was doing; that any further issues with the house he would have to handle himself."
I am barely getting by each day any more. I am trying to build myself up from all that this home remodel and my recent 6 week illness took out of me. And, I really resent him WANTING MORE. But, I realize that Chuck

will do what Chuck does, until I am dead.

I am frustrated beyond measure, and fighting a tremendous upward battle to take care of myself, my dogs, and my home. Most days I feel like a failure because of how little I am able to get done, but each day I try to focus on (improving). And today I just feel 'the hopeless failure'. And, that is due to having more stress than I can handle with the little energy I have.
I know I will pull myself up by my boot straps again, and focus once again on (improving), but right now this is where I am at.