Wednesday, October 16, 2013
Yesterday afternoon Greg and I went to Shari's to see a friend - Holly had worked at the Red Lion and then moved over to Shari's where she is now evening Supervisor. We had not been to see her for way too long - so we really enjoyed visiting with her. She is a very dear friend and has been so supportive of Greg.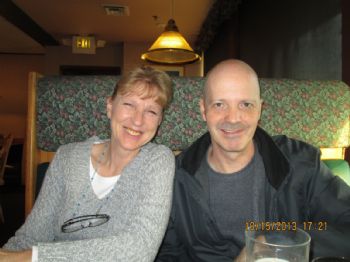 Greg is beginning to get some "fuzz" on the back of his head and some along one side. I told he needs to hurry because winter is coming. But, just in cast I did knit a cap for him.