I was cleaning out a bunch of old papers and ran across a picture from a 2007 church directory of my family and I. It was printed on an inkjet printer, hence the big water stain on my face (of all places) but I had forgotten that this picture even existed. There weren't too many of them around since they had been mostly purged because they never showed me in a good light, or angle, or anything else for that matter. Thankfully a few survived.
I sat and stared at it for a LONG time. I looked at my non-existent neck, face, arms, even the fact that I was hiding behind my youngest daughter Emily. That WAS ME, the old me.
I then looked at me from a few days ago, the picture of me in the finishers shirt.
Then:
Now: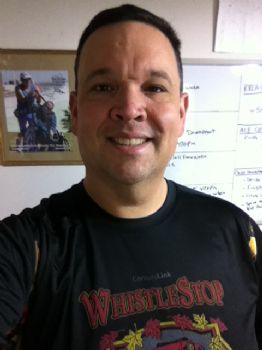 I just realized something.
I don't have the RIGHT to stay down in the dumps for any reason.
There are so many who are striving every day to try to get to a place where they can have such a picture and here I am whining about a few things and allowing that to spoil my personal victory.
I remember a long time ago I told someone who was struggling and was discouraged about not being what they thought they should be a few things that came to back to me at that moment...
Let me share:
So what if you didn't run the perfect race, or even come close to doing as well as you thought you should. So what if you jiggled and didn't look suave and cool for the cameras. So what if you had to "lower yourself" and walk because you needed to.
So WHAT?
If the race course ran by a hospital, there were patients that watched you run by and longed to be able to breathe like you, to have use of their legs, to have the sun on their face, or to simply breathe fresh air and not have to listen to the moans of the suffering.
If the course ran by a residential area, there were those that sat in their chairs wishing they had your courage, wishing they could be active like you. To know what it is to do what you are doing and not feel like they are going to die.
If the course ran by a prison, there were inmates that felt a stab of regret about what landed them there, and felt some sort of longing to just be able to have a choice in their lives and do something without being watched, locked down, or herded from one area to another.
Then there are those at the finish line, the waiting families and friends that wonder what it has to feel like to do something like that and wear a medal, to finish something they started, to endure and see it through.
It all came back to me and I realized that with so many people who would give anything to have what I have, I am a debtor to them. To make sure that if they cannot experience it themselves, to not make it worse by making them watch as I act foolishly and squander away what they have dreamed about.
So what if I am a little off track, I'm still charting a course to ultimate victory because I have learned that in the long run, I will accept nothing less.
Happiness is a choice and ultimate success is also a choice because each decision lays the ground work for the next like one foot in front of the other. I know from experience that no matter how fast or how slow, one foot in front of the other will get you to the finish line be it a 5k or a 70.3
I don't have the right to be crabby.
It's time to smile.