Yesterday was one of those days that I had planned out and absolutely Nothing went according to plan.
Normally I get up, take my meds, then head out on my morning walk. Yesterday when I woke up my hubby was home from work for a few hours so we could get our drivers licenses. Mine has been expired since May.

When we got home I had a VERY late breakfast. It was almost noon!
After breakfast I decided to go out to dinner with the Red Hat ladies. I'm a pink hat until May. Our hats had to be decorated for Halloween. I didn't have a pink hat so I decided to paint my cowboy hat and take it from there. I finished my hat with ten minutes to spare before I had to get dressed and go.
Here's my hat: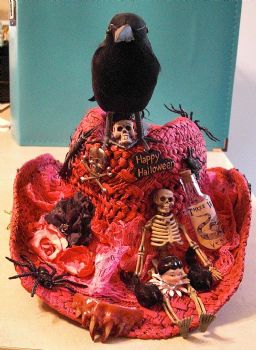 We went to a nice restaurant that had a $42 steak on the menu!!!!! I had looked at the menu before I left and I stuck to my guns when I got there even though it was extremely hard. I had grilled salmon which I had never had before and LOVED it!!!! For sides I had rice and steamed broccoli. They had warm bread pudding and ice cream on their desert menu but I manged to say no. Yay Me!!!!
I got home at 9:15 pm. I had such a busy day that I hadn't gotten in my exercise so I put on my tennis shoes and went for a walk. It was a GORGEOUS fall evening with a wonderful breeze shaking all the leaves.
Normally I would have skipped the exercise and started again the next day. Would you like to know what made me exercise?
Was it Motivation? No
*
*
*
Was it Determination? No
*
*
*
Was it because I'm in the Fall 5% challenge? No
*
*
*
It was because of the Garmin GPS in my car. Yes, you read that right. My GPS made me exercise.
This is what happened: I recently got the GPS and this was my first time using it. When I got it I downloaded various car and voice packages. I have the Halloween package set on mine which means I have a mans voice sounding a bit ghoulish and my car is a hearse. I LOVE IT!!!!
Yesterday when I arrived at the restaurant it said "You have now arrived at your dreary destination" Isn't that cute? LOL
I didn't think he was so cute on the way home. Here I am driving along in the dark, the GPS has been quiet for awhile since I had to stay on the same route for a long ways, then Out of the Blue he spoke up and said,
"Honey, you better check the backseat".....
OMG!!!!!! My adrenaline shot through the roof! It took every bit of courage I had to NOT look in the back seat but that didn't stop my imagination from taking over and letting me know all the various things that could be in the back seat.
I spent the next 15 minutes telling my GPS exactly what I thought of him and that what he said was NOT funny! I probably looked like a loon telling off my GOS unit but I didn't care.
When I got home that adrenaline was still pumping which is why I went for a walk. Now you know the story of how my GPS got me to exercise.
I think today I'll change which voice I have on my GPS. LOLOLOL
Have a great day Sparkers