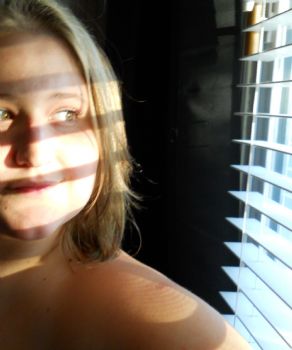 Discourage.
(verb) to lose confidence or enthusiasm in something or someone.
When we find ourselves in a situation we may not like, what do we do? If you are a more positive person like myself; you may reach out for support, pray, delve deeper into hobbies, get out of the house more often, or work out a little harder... But what about when the bad situation begins to linger longer than expected? Then what do we do? Think negatively, get DISCOURAGED, lose hope, become distant, forget about praying, push our hobbies and friends to the side, and eventually lose hope in ourselves because the inability to fix the situation begins to make you believe it is a reflection of who you are as a person. Why? Our minds are pretty weird sometimes!
Recently I went through the heartbreaking experience of being a caregiver to a loved one with Dementia. This person I lived with went from becoming a mother to me, one of my best friends to a person I could not recognize anymore. I struggled to keep everything perfect but once the situation took a sharp turn when the Dementia changed stages, I had to uproot myself and my life to move out of the home so I could take care of myself and this person I loved so dearly could be taken care of by professionals. This transition felt like it would never end. My entire identity was wrapped up in being a caregiver that once I was out of the picture, I no longer knew who I was or where I wanted to be in the world. During this time my hopes and dreams had to be placed on hold to make sure this person had all of my time and attention, so once it was over I wasn't sure if those aspirations were still the same.
Now I find myself finally feeling like me again. I'm tapping more into my artistic side, I have chosen a career field I'm excited about even though it is a completely different change from what I worked so hard for before, and I have found the love of my life. Now my biggest hope is to be the best not only mentally, but physically. Of course once I began my weight loss journey again, found a job I'm in love with, and brought my GPA in college back to a 4.0... I was diagnosed with an Ovarian Cyst. This cyst keeps me in pain or inactive due to the possibility of exercise or strenuous activity causing the cyst to rupture. I have a difficult time on bad days even sitting at my desk at work. So here is where the feelings of discouragement come in. I hate sitting on the couch all afternoon and staying up all night because the medication keeps me awake and starving! I hate having to call in the day of work because I know there is no possible way I can do my best at work. I hate watching my all A semester begin to drop down. I hate that I have a doctor that will not listen to me, and I hate knowing I have to wait too long to see a new doctor for a second opinion which may or may not turn out to be a good idea. I hate wanting to launch off in a new and exciting direction but being limited to what I can do.
SO here is what I plan on doing about it for those of you wondering when I am going to stop being such cry baby! lol
1. Walk at least 10 minutes before work each day
2. Watch my carb and calorie intake
3. Drink more water
4. Smoke at least 2-3 cigarettes less than ususal
5. Say two positive things to myself a day
This is where I will begin. If any of you who are reading this are discouraged and want to give up right now, I'm writing this for a reason. Start SMALL. Reevaluate your opinion to the situation you are currently in. How can you still reach a goal within reason? Again, start SMALL. Yes, the situation is frustrating and discouraging but I do not have to allow it to control my life and neither do you. We are strong and we can do anything we put our mind to! It will give you hope for tomorrow no matter how small the goal may be, something is better than nothing!
I will end with this -
Courageous
(noun) the wonderful ability to go above and beyond the limitations you have set for yourself out of fear.
Go and be courageous!