Tuesday, October 15, 2013
Woke this morning to find Mom in the floor. Thank God she falls well. Woke DH up to help lift her and then got her ready for her bath and her day. We headed to Shreveport to meet DS flight. It was cancelled and she got on a later flight. So we ran errands and finally got back home.
On the way back we stopped by a wood carver to ask if he would come and carve the dead pecan in front of Mom's house. But he doesn't travel to cut. If we cut the tree down and bring it to him, he will carve it. Something to think about. Of course, I could always pick up a chain saw myself. We'll see
Everyone came for supper and all is cleared and I am again tired. Good night and rest well.
"I have filled him with the Spirit of God in wisdom, in understanding, in knowledge, and in all kinds of craftsmanship, read more.to make artistic designs for work in gold, in silver, and in bronze, and in the cutting of stones for settings, and in the carving of wood, that he may work in all kinds of craftsmanship. " Exodus 31:5-6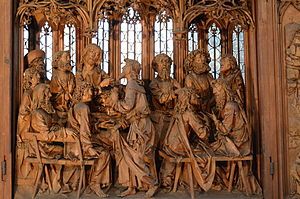 God bless the work of your hands.