Of course we all know about the language!
My purse is your wallet, your purse is my bag.
Your pants are my trousers, but my pants are your knickers.
My chips are your French Fries, but your chips are my crisps.
You say to-ma-to, we say to-mar-to, etc.
Everything is definitely bigger in America. You have Cheeto's, we have Cheesy Wotsits, but your Cheeto's are twice the size of my Wotsits!
And a self respecting English spider is about 2" across including the legs. I found this monster on the steps outside a restaurant we were visiting.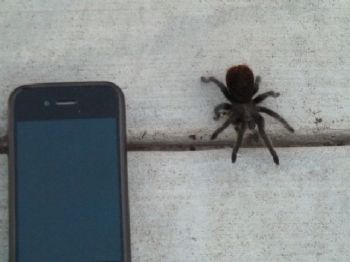 That is my iPhone beside it, showing the scale, both I and the spider survived the experience!
The British have always been noted for their inventions, but for sheer inventive genius, give me the Americans every time.
In the British Isles we have two ways of flushing a toilet. There is either a button on top of a cistern to push, or a lever on the side to operate. On rare occasions there is a Victorian survivor with a high cistern and a chain to pull. In the USA, every time I visited a rest room, I had to pass an intelligence test, (or throw a six when in Las Vegas), before I could flush and escape. Plumbing that comes up from the back of the seat, or sometimes sideways, buttons on the top, or the side, levers that went up, or down. The list was endless! On one occasion, I stood up and the toilet flushed itself, before I could pull my pants, or knickers up, frightening the hell out of me!
Then there's the food. I was constantly wrong footed. If I ordered an appetizer, it would be huge, but when I didn't the main course would be tiny! and the idea of boxing half of your meal up and taking it home for later, is an entirely alien concept to the British. Then, what's with the cheese? It comes on everything!
You're so polite! The only time I heard a horn honked in anger was in Boston, and I bet he wasn't a native. People crossing the road have priority. Now there's a novelty! You try that in London and the drivers will head straight for you, woe betide anyone stepping off the kerb in front of them! It's ten points if you frighten someone or knock their hat off!
Tipping! Now there's another alien concept for the British. In the UK, the price you see on the ticket is exactly what you pay, In the USA, one adds tax and a tip on top of the ticket price. I cannot image an Englishman in a pub, tipping the barman £1 every time he orders a pint of beer.
In spite of all of this, I thoroughly enjoyed my holiday in the USA, and hope to visit again next year. Everyone I met was polite, friendly and helpful.
Unlike the British who can be a surly lot!