UGGGGGHHHH!!! I'M UP 2.6 LBS!!! ROLLER COASTER!!
Monday, October 14, 2013
UGGGGGGHHHHH!!!! So last week, I lost 2.6 pounds & now I'm right back up to 240.4 pounds.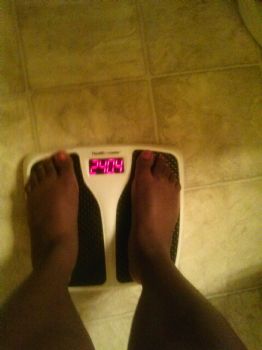 Honestly, I ate really bad last week, so it shouldn't be a surprise that I'm up. However, maybe part of me was hoping that maybe I was just up half a pound but honestly I didn't track my foods like I was suppose to. I ate WAYYYYYYY to many CARBS!! I just ate whatever, whenever.. Hence 2.6 pounds gained.
So, I guess no need to feel sorry for myself. Part of me just wonders when will I get my head 100% wrapped around this weight loss. I am tired of the up & down, up & down.. I mean hundreds of people are successful with their weight loss goals, why can't I be one of those people??????
Why can't I stay focused & keep going every single week like I'm suppose to. Here I have a personal trainer & don't want to feel like I am just throwing my money down the drain. So, I guess I need to get on track & stay on track.
Tomorrow I'm meeting a friend for lunch & need to make sure that I look at the calories on the meal for Chilis.
Thanks for reading..