Calling All Decor Gurus. . .Please. . .and Thanks !!
Monday, October 14, 2013
The purchase of a new bedroom set was specifically to move from a Queen-sized bed to a King-sized bed. . .which necessitates a change in bed linens.
Along with my move away from the darker woods that I love so much, I have decided to switch it up with my bed linens - I think a lighter look would better compliment the lighter wood of the new set.
My Problem: I am not lucky enough to be a fashion-minded person - I have zero sense of style - add to that deficiency, I have a negative-zero comfort factor with making a change to my ususal choices.
My Solution: I am posting pics here of the two bed linen sets I have selected along with a 'reminder' pic of the new furniture and am asking for your input - comments / suggestions / vote - as to which bedset would best complement the new furniture.
I've selected these two paint colors for the room - the bed itself will be placed on the wall with this paint color:
www.glidden.com/search/r
esults.do?q=soft+suede
The second paint color:
www.glidden.com/search/r
esults.do?q=water+chestnut
The Furniture:
Bed Linens (in no particular order)
#1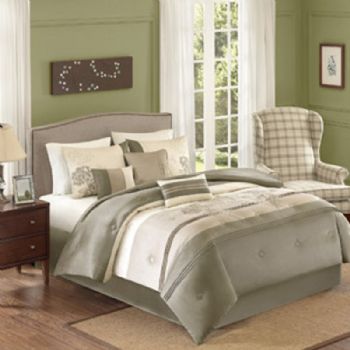 #2
NOTE: I pulled these pics off the web...the Solstice appears more 'tan' here than it does it in real life - it is a tad closer to the 'green' of the other pic.
I like both sets and am really struggling here. . .

SO VERY, VERY MUCH to any and all who choose to provide me with some direction here.
Dolly