This summer I was able to have my own garden for the first time in many years. I had been living at the beach in a very windy, cold area with no soil for several years. Now, back in the Willamette Valley, I am in a place where you can really grow a lot of your own food if you want.
The town where I happened to be living had only one community garden, which was full. However my (now former) partner does some part-time work at a plant nursery and the owner gave us some space to use for a garden. The plot was actually quite huge—about 450 square feet. The soil was not great, but I put some work into improving it and had a pretty good gardening year. It was also great exercise and a good excuse to get outside and enjoy the fresh air. Sorry about the rotated images...the originals are orientated correctly...OK, turn to your left...
I have always gardened for fresh cooking and have lots of experience with freezing my own food. I currently have a chest freezer full of berries, fruit, zucchini, pumpkin and sunflower seeds. However, I have never done my own canning, so I taught myself how this summer using the Ball Blue Book, a tamale steamer and an efficiency-sized stove with only two (small) working burners. Here is the result: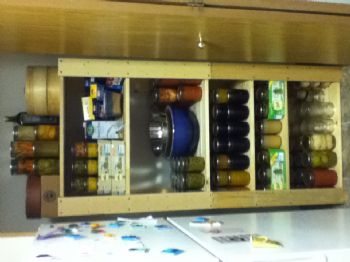 I took a bunch of green beans with me on a visit to my parents' house in September and borrowed their pressure cooker to can those. I also bartered green beans for the tuna that is on the bottom shelf on the right—my dad canned that. My tomato crop turned out well, so I was able to trade fresh tomatoes for some salmon that a friend caught. I've also traded tomatoes for wild mushrooms and traded pumpkins for plums.
I have since moved, but I brought my root vegetables with me. I've set up a kind of root cellar in my apartment's outdoor closet. Here's what that looks like: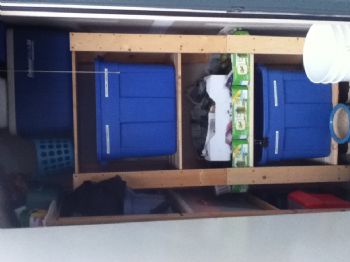 Smaller containers would have been better, but I used what I already had on hand. I brushed off as much dirt as possible, then layered the root vegetables in newspaper. I have white, red and purple potatoes in there, yellow and orange carrots, onions, garlic and a bunch of ripening tomatoes.
I feel very accomplished and am glad to have some good organic food on hand to get me through the winter.
I have also made some things that will help with convenience, like salsa—I canned five different types. I can take a ½ pint of salsa, throw that over a piece of fish and bake or grill that for an easy, delicious meal. Hazzah!
A few more pretties...