Sunday, October 13, 2013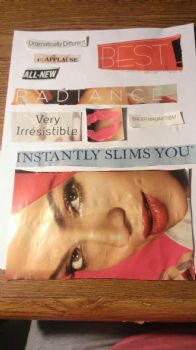 This is my motivational pictures for this weeks challenge. I didn't have any glue so I used lotion! lol I just pasted the pics down as much as I could. If you can't read it I chose these words:
Dramatically different
All new
Instantly slims you
Radiance
Applause
Best
Very irresistible
Sheer magnetism
I also have a pair of lipstick lips and a picture of Beyonce. I absolutely love her and I have always aspired to be like her. She has achieved so much in her lifetime! She is a real inspiration to me. I will hang this on my wall and look at it every day and use it to give me motivation!