Saturday, October 12, 2013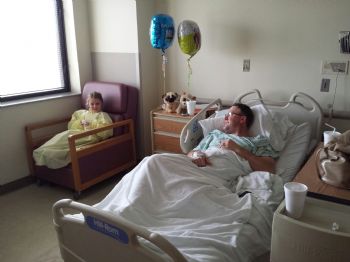 All 3 of our sons work on off shore drilling ships and all are gone 3-4 weeks at a time. My youngest son has been gone 3 weeks and got home on Thursday. He had a boil on his tush and went to the doctors on Friday. They immediately put him in the hospital and did surgery to clean out his boil. The tests came back as MRSA Staph and so they are keeping him at least until Monday so they can give him stronger antibiotics by IV. They have him partially isolated and anyone visiting has to wear a gown and stay away from him. The picture shows him and Miss Molly. Miss Molly commented that the gown was too big.. They are running more culture tests to see if anything else. I know everyone carries staph bacteria on their skin but being on a ship with many others also can be a problem. He is fair of skin so he has problems at times. When the ship does a drill where they spray sea water his skin gets irritated from the salt.
I'm just asking for thoughts and prayers that he doesn't have to remain in the hospital long and that they can get this under control and that it doesn't spread to his family. Thanks.