Thursday, October 10, 2013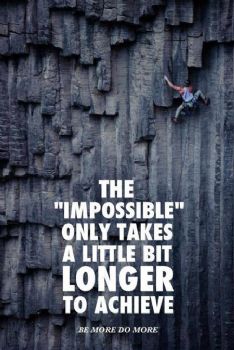 Day 137: Thursday, October 10, 2K13
"The 'IMPOSSIBLE' Only Takes A Little Bit Longer To Achieve-Be More Do More"
It is Thursday. I am STARVING!!! The weekend is near.
I want to ACHIEVE something great TODAY, TOMORROW, and
next YEAR. What I am doing today will help me build upon
tomorrow. I don't BELIEVE in IMPOSSIBLE. I CAN achieve
anything I put my MIND to.
I must PRACTICE good-make that GREAT habits everyday....
so when I finally pick my head up next year at the same time I
will have ACCOMPLISHED losing another 100LBS.
PM Cardio:
60 MIN ARC TRAINER / 20:20 / 1354 CALS / 2.69 MILES
Day 136: Wednesday, October 9, 2K13
DAY OFF