List your reasons/excuses on why your diets and exercise plans have not been well executed in the past. Give 3 or 4 reasons and for each write a strategy that will keep you on track fro 8 weeks. Letís learn from our past behaviors and make this our best Challenger ever!
Diet Reasons/Excuses:
For me it has been eating to few calories. The main thing I have learned to lose weight (for me) is I have to eat the proper foods every 3 to 4 hours a day.
I the past I have tried:
Low Carbs
Low Calories
Vegetarian
and many other Diets over the past 5 or 6 years and they worked for a while and then I would gain weight again.
Diet Strategy:
1) Eat with in 30 minutes when I get up.
2) Drink half my weight in ounces of water everyday.
3) Eat the proper foods in each Phase of The Fast Metabolism Diet every 3/4 hours a day.
4) Get at least 7 hours of sleep.
I cook or chop and slice everyday or so, so I can have my Homemade Fast Foods and stay on Phase 1 for 2 days, Phase 2 for 2 days and Phase 3 for 3 days. This has worked for me since July 1, 2013, When I stay full on the proper foods, I donít want junk foods and I feel great physically and about myself. I have finally found my Way of Life when it come to food.
Exercise Reasons/Excuses:
I have a problem staying on track with exercise. Itís all or nothing with me. I get started on a plan and life happens and I get off track. Then itís really hard to get started again.
Exercise Strategy:
On Monday, Oct. 8, 2013 I started 3 new 6 week challenges. Since I have lost weight over the past 3 months I have noticed my muscles need help. So, my challenge is to tone up with Callenatics and
1) The hundred push ups Training Program
2) The two hundred squats training program.
3) The one fifty dips training program.
I need to increase my strength training and I thought this might help. Wish me luck in sticking with it!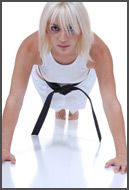 hundredpushups.com/#stha
sh.H1VrqFvv.dpbs