Wednesday, October 09, 2013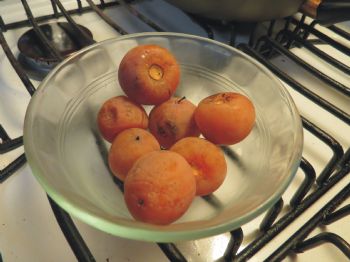 We have an American persimmon tree. You rarely find these in the grocery stores as they tend to ruin fast. The ones you find in the groceries are the Japanese persimmons.
There is an old tale that you wait to eat a persimmon until after the first frost...well that is really just a tale as we are already getting ripe ones and we have not had a frost yet. The main thing you have to remember is not to pick them straight from the tree. They are only ripe when they fall off naturally. They are soft and mushy. If you eat before they are ripe, they will make your mouth pucker.
The seeds are around in a circle.
You cannot cook the persimmons down to remove the seeds as cooking them will make them thick and stick together. You can only remove the seeds by using your fingers. Once the seeds are removed then you can use the pulp in a fruit bread like you would banana bread.
They do have a distinct flavor much like a pudding with a fruity type flavor.
Another tale which I think is true is if you break open the persimmon seed and you see a spoon shape in the germ then you will have heavy wet snows during the winter. If you see a knife shape then you will have wet icy winters and if you see a fork then you have nice fluffy snow. This year we have a spoon.. I have checked these seeds out each year and so far they have told us the right winter weather.