Dr. "Lucky" Meisenheimer is a Dermasurgeon, Yo-yo collector, film maker, published author and a pretty good swimmer.
Lucky lives in Orlando, Fl and has opened his home to swimmers 6 days a week, since 1989. He's a former masters national champion swimmer and world record holder. There is much information about him which can be found by doing an internet search, but this blog is about his daily swim meets at his home on Lake Cane in Orlando.
People gather there, every morning except Sunday, and swim across Lake Cane and then back to his dock. It's a 1K round trip.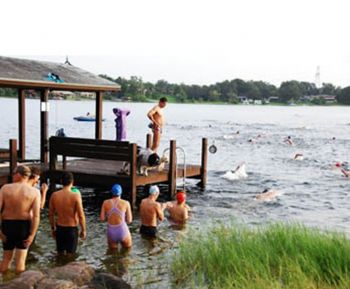 In my quest for open water swimming locations, I found out about his swim meets. I logged onto his Facebook page and got to thinking that I might try it myself. It's about a half hour drive from my home in Maitland.
It starts early on week days, so I had to set my alarm for 5AM to have breakfast, coffee and get there on time. I was pretty excited and noticed my heartbeat was elevated, in anticipation of making the lake swim attempt.
I arrived early and met up with a couple of other early birds who were cheerful and gave me lots of information about where to swim, what to look out for and where the buoys were. It was still dark out and I could only see the lights across the lake. More people slowly trickled in, and then Doc Lucky came out. He welcomed me and helped me sign a liability waiver - there are alligators in the lake, I could drown, stuff like that was included in the waiver.
Soon enough, it was 6:30, the start time, and we were off. It was still dark, but I could now see the first buoy. Strangely, I had no weird feelings, fears or the panicky feeling of being far off shore that I read so much about. I felt good and strong. Made the crossing feeling good, pacing myself and swimming slowly. My stopwatch said 14:03 for the first half.
When I arrived across the lake, there were a few people standing waist deep in water arms folded across their chests and resting up for the return trip. I did the same. Perhaps for one or two minutes. Oh yeah, while we chatted, I got lots of attention for successfully making it across, these people were happy to see the new swimmer. I might mention that two of these guys were my age or older. There were swimmers of all ages, but it seems this event has appeal to older folks.
So, I dove in to make the return trip. It was a little more difficult seeing the dock and Lucky's lights from this swim angle, but I got my bearings and kept on swimming. It did occur to me that I was in deep water and might get tired, but then I remembered that I'd swum farther than this many times already, and turned off the negative thoughts, and kept swimming, as I slowly approached the dock.
Finally got there, and raised my hands in victory. Someone recognized me as a new swimmer and directed me to the area where I could pick up my swag. A bumper sticker, a cloth patch and a sheet to record future swims.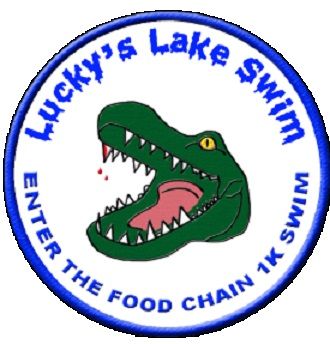 Then I was given permission to sign the Wall of Fame. The walls were covered with the signatures of my predecessors, and the ceiling had the only available space. Here are some blurry shots of me signing the ceiling.
I was encouraged to return and continue to add my future crossings to my list. You get a T shirt, swim cap and other goodies for certain levels of crossings. Pretty cool for an event that is free to attend.
I will be returning.
Thanks for reading and have a great day.