As most of you know, my dog Missy is 15 ½ now and has been dealing with arthritis issues, the most challenging in the past year. She is my most precious gift from Father God. She has been my best friend (on earth) almost from a puppy and she is my constant companion. We've enjoyed walks and errands and vacation trips (by car, not airplanes) and road trips. We've shared meal and treat times (I have mine; she has her doggie ones.) We've seen many sights together. We've enjoyed so many precious times together that I wouldn't trade for anything on earth. She really is in my heart, and although I've been blessed with many pets through the years that I love still in my memories, I always had an extra special bond with her. I know I always will.
I take her for regular vet checkups, and more as possible since we discovered that the veterinary arthritis medicine Previcox had injured her kidneys last January-March. Three subsequent blood tests since then showed that her kidney numbers improved slightly over the summer – that is another miracle with her because my vet office told me this NEVER happens. Except for arthritis, she is in great shape for a 15 ½ year old dog. But some days are hard. Sometimes she has "senior" moments where she paces around the house at night… the vet says it's part of old age and if it really becomes a problem, they have a medication for it. When she does this, unfortunately, I don't sleep well because I'm hearing her move around and she will also come to me at times for attention, which of course I don't want to ignore her. Other nights her arthritis bothers her, and I have to get up and give her more medicine, and then I sit with her until she falls asleep.
What can I say? Other people have children. I have a furbaby.
The arthritis attacks her with stiffness and joint aches in her hips, rear legs and front elbows. Cold and damp days are the most painful days for her and I have to adjust her medication and supplements accordingly. I pray over her daily. I massage her. I do physical therapy treatments and exercises with her. I do everything I know spiritually and naturally for her. I know that we can't all live forever on this earth and I know that someday I may have to make a very difficult decision. My vet doesn't think it is "time" yet. I don't think it is time yet. I don't think Missy is ready to give up yet.
Missy still loves to go for what I call "walkies and sniffies" because she likes to walk and sniff everything in sight. She enjoys her food and loves her favorite treats. She loves and seeks affection from me. She is still interested in life and living, and when I'm doing almost anything that she can reach or see – like when I'm painting (art) or writing or organizing papers, she still wants to stick her nose into it to see what I'm doing.
Right now, as much as I love Autumn, I am concerned because I know colder weather is harder on Missy. So I am stepping up my prayers for her even more. I am FIGHTING – really FIGHTING - negative fearful thoughts over her at times and I just keep redirecting my mind and heart back to the Word of God, to the same wonderful Lord Who has healed both of us many times before. I am standing in faith even though at times my spiritual legs may feel wobbly. I believe the Lord is encouraging me to believe...and He is the One Who said nothing is impossible for those who believe. Please, friends, join me in prayer for her.
The last few days she's been extra perky and playful again. She's been coming up to me more often for her neck rubs, and snuggles and her favorite treats. Tonight she was really adorable… my heart melted every time she came up to me.
I thought I would share some precious moments taken this week with all of you… these show Missy coming up for her neck rub and some snuggles.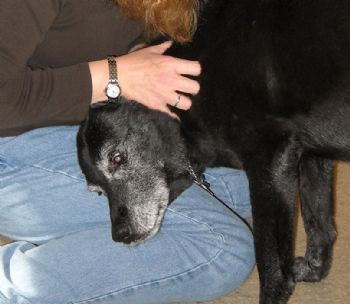 Missy getting a neck rub.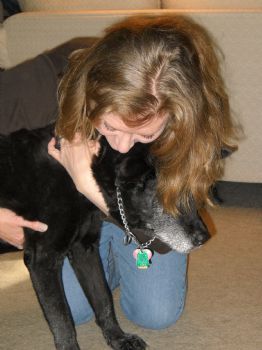 Missy getting a hug.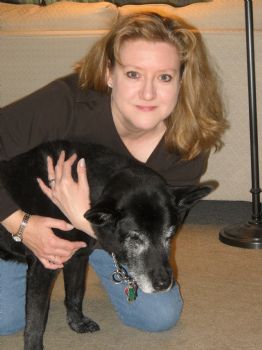 Missy getting another hug.