Tuesday, October 08, 2013
(Strong language ahead)
1
2
3
4
5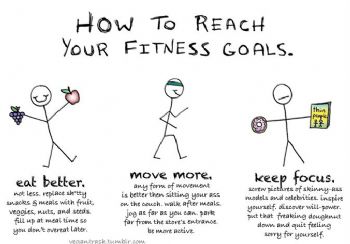 Eat Better
Not less. Replace sh*tty snacks & meals with fruits, veggies, nuts and seeds. Fill up at meal time so you don't overeat later.
Move More
Any form of movement is better than sitting your ass on the couch. Walk after meals. Jog as far as you can. Park far from the store's entrance. Be more active.
Keep Focus
Screw pictures of skinny-ass models and celebrities. Inspire yourself. Discover will-power. Put that freaking doughnut down and quit feeling sorry for yourself.