Monday, October 07, 2013
The anniversary party was very nice. I didn't dance as much as I wanted too. My husband doesn't dance. I was counting on them playing a few line dancing songs but they only played two, wobble and one I wasn't sure about. I danced only once. They also had hot tamales and peanuts on the table. My husband ate some peanuts while I munched on hot tamales. I ate a piece of chicken, roll, and a cup cake. They had various cup cakes instead of an anniversary cake. I drank a few bottles of water. Suffice it to say, I was very disappointed by my weight on the scale this morning. I can't seem to stay below 289, but every pair of pants I had on last week, I had to keep pulling up. So, I decided to check my progress by going in my closet again. I pulled out dresses that I had tried on before, was able to get in them, but they weren't comfortable enough for me to wear. Every dress I tried on fit perfectly. So, even though my weight isn't going down the way I want it to, I am still making progress. This particular dress, I wore 8 weeks ago. The day I wore it, I had put it on before breakfast and decided I would wear it but then after I ate breakfast, it didn't fit like it did before I ate. I wore it anyway but without the white collar and I wore the jacket open with a camisole. Today I wore it the way it was meant to be worn.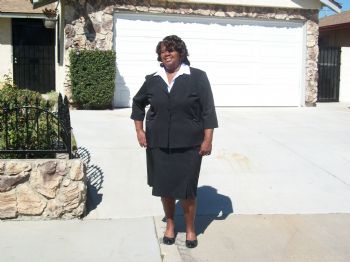 My husband woke up to me trying on clothes and he saw how nice everything was fitting me. So, he decided he wanted to walk this morning. He also wants to get out his roller, and his exercise bands. I think someone is motivated.