Sunday, October 06, 2013
Good afternoon Sparkers,
Jodi Stolove's 45 min. aerobic workout 'Chair Dancing Through the Decades' - Done
Jodi Stolove's 20 min. 'Simply Stretch' DVD - Done
Food planned & tracked
Soup of the day: Mexican Vegetable. Here's a link to the recipe.
recipes.sparkpeop
le.com/recipe-detail.asp?r
ecipe=2516255
--------------
For the third day of the BLC weekend challenge to eat a new fruit or veggie I'm trying Apple Pears for the first time. Here are a couple of snaps.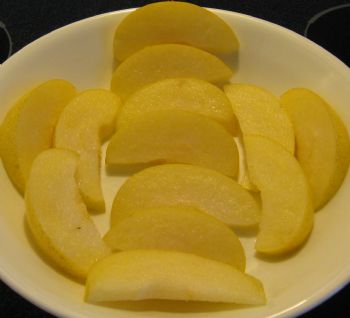 Tasted kind of watery to me. I'd say I like both apples and pears better then apple pears. But it's fun to try new stuff.
--------------
In other news, my Sparkfriend Valerie (_VALEO_) and I have been having a conversation about sustainable agriculture. She told me she was taking a free open study course on World Agriculture and she gave me a link. I looked it up and not only signed up for that course which runs from Nov. 18 - Dec. 15, I also signed up to take an Anthropology course from Oct 14 - Nov. 11th. I'm just taking them because it sounds interesting to me.
I'll probably be writing more about it over the next few months. Not much else to say today. I'll be back tomorrow.
Letha