I started taking Medium Chain Fatty Acids.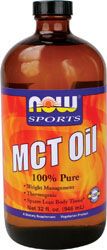 The other day I talked with my MOM. She started my Dad on MCT oil from Now. She said his thoughts seem to be clearer, more focused. He has been experiencing memory issues, undiagnosed. At times she said he just couldn't understand her sitting like an empty shell. There is a Dr. in Florida who put her husband on it and had remarkable improvements in his cognitive functioning. While I have been aware of the story and read it, I never tried taking it. I have eaten coconut oil off and on over the years without any noticeable changes. Coconut oil has MCT in it, but MCT from what I understand is a more concentrated form of the nutrient.
I started taking it a few days ago. Since I have started about 3 days ago I am noticing changes in my body. While I have yet to explore the relationship between medium chain fatty acids and multiple sclerosis I plan on doing so reading research articles about it.
I feel different on it. The first day I had GI upset. I think it was more due to pain issues that were going on due to the barometer, but I am not sure. My sleeping has improved, its more restful, deeper. I am waking up with more energy and alertness. My muscle strength is improved for periods of time closely related to the dosing of the medium chain fatty acids. I feel more alert, less cognitive fog.
Yesterday no GI issues taking it. I added a cup to my CHOCOLATE GANACHE recipie altering the recipe somewhat. I slightly increased the coconut oil to maintain a chocolate bar consistency that I love the ganache for. I also added some cacao paste for the added antioxidants and high ORAC value in addition to the cacao powder. The results are incredible. It has the consistency of a ultra expensive chocolate. Honestly I haven't ever found any chocolate that can match that of the ganache. Adding the ingredients to it, made it an even more powerful BRAIN FOOD. I am thrilled with the results, the taste, and how it makes me feel after eating it. I feel more alert, awake, perkier, better. I only eat a small piece maybe a tablespoon or less in a serving as it is very rich and satisfying.
Today no GI issues with taking the MCT OIL. I have upped the dose to one tablespoon mid-day and evening. I am also eating my chocolate ganache. YUM. Yes, it is a fat, a healthy fat. I also rub it on my dry skin. It seems to absorb really well. My extra dry, sun-damaged skin from my younger years is looking better.
Swansonvitamins.com says, "Medium Chain Triglycerides (MCT's) are fats that are naturally found in coconut and palm kernel oil. MCT's are more easily and rapidly digested than other types of fats, as they require lower amounts of enzymes and bile acids for intestinal absorption. MCT's are metabolized very quickly in the liver and are reported to encourage an increase in energy expenditure, while decreasing fat storage. Numerous studies suggest that substituting MCT oil for other fats in a healthy diet may therefore help to support healthy weight and body composition. Contains no sugar, salt, starch, yeast, wheat, gluten, corn, soy, milk, egg, shellfish or preservatives."
I have read on other sites improvements in brain functioning, muscle strength, energy, alertness, weight loss, etc.
Normally I don't talk about specific supplements, but I think this might have the potential to improve my health. There is just something about it that seems to be helping me to feel better. I plan on continuing to take it as it's rather inexpensive.
My walking continues to improve. Today my walk was 1.5 miles long.
Here is a link to an article about Medium chain fatty acids. http://www.thewayup.com/newsle
tters/111511.htm
I would be curious does anyone have experience taking this and what has it done for you?