Today is my last day of being 21. that means tomorrow is my birthday which wont be an exciting one because I'll be all alone with my two dogs. My boyfriend is traveling to a different state for work and I'm stuck with no car, and I'm 15 hours away from my friends and family. but that's okay, I'll be getting a lot of stuff done that needed to be done a long time ago.
If you've read my last blog, I've been depressed for some time and I was in the search of a good self help book. Iv'e read one so far, it's called Choose Yourself (be happy, make million, live the dream), by Altucher James, and Costolo Dick. And Iv'e got about 5 more books that are waiting to be read.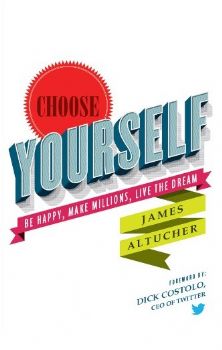 But anyways, I don't care to make millions or own a business so parts of this book wasn't for me. But the advise and realization that I'm making the wrong decisions already, is life changing.
I'll admit that I'm having a quarter life crises. I'm always comparing myself to others my age, I panic when things don't go right or feeling like I'm failing, I feel paralyzed to make decisions for myself, and I've been trying to find a "purpose" in life. And I've been doing this since I was 18!
This book made me change those habits and thoughts in one day.
Things I've learned that's life changing;
(I wont be going into detail. If you want to understand more about these topics, read the book! it's only $2.99)
*I learned that I cant rely on accomplishing goals or events to make me happy.
*I've learned to just DO what makes me happy without thinking about failing
*How to stop thinking so much about the future or past, which can cause depression.
*How to find my passion
*How to make the best out of each day
*to stop thinking about a "purpose" and find my inner happiness
I really feel so much lighter after reading this book. I thought I would have to spend 1000$ on therapy and depression pills. Now I know I had all the tools already to help myself. All I had to do is change the way I think, and all those pesky worries and self doubts go away, forever.
Today I'm going to enjoy the sun shine with my dogs and do my dog training homework. Then take a bike ride to the grocery store and buy different veggies I've never had before. I may even film an art video and start doing YouTube again.
Who knows what might come my way or what I may or may not do. for once, I'm not worried and that's the greatest feeling of all.