The latest positive in my life is "The Spark"!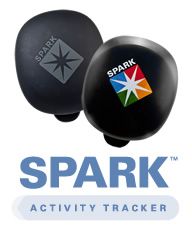 From the moment my feet hit the floor in the morning until I'm sitting on the edge of the bed ready to sleep, the "Spark" tracks my daily activity.
I was excited and honored to be part of the pre-release of the Spark Activity Tracker. I've read the posts of fellow Sparkers with "wearable fitness tech" and see the real benefit they get by having a clearer picture of what their activity level is on a daily basis and how it helps keep them consistent and trying to do better. Now I was going to get a chance to experience it for myself!
Everything I needed was included in a compact, storage box: the Spark Activity Tracker, the SyncPoint USB dongle that transfers the data, even an extra "coin" battery! Set-up was really easy. Followed the enclosed Getting Started guide and then the data from my Spark Activity Tracker was shared with SparkPeople.
First time worn on the afternoon of September 16, I clipped it to my bra and the tracking was not so good. Okay - learning curve - back to the instructions. Ahh! For the best accuracy, clip the Spark flat on the top of your shoes. Gotcha! So that's what I do now, clip to my footies as I pad around the house, transfer it to my shoes when I go to work, back to footies when I'm home for good, and then next to the bed so I can clip it on when I get up in the morning.
The "Spark" tracks my steps throughout the day. It also records workouts of 10 continuous minutes or more. For example, I vacuumed soon after receiving it and that continuous activity was recorded! It's a kick to see that my grocery shopping counts as an activity (yes I'm one of those "power" grocery shoppers because it's part of my "me"/"destressing" time by myself) and I am continuously moving. It just never occurred to me that shopping was an activity that could be tracked - light-bulb moment. Who knew that I walked a mile in the market, certainly not me!
When the "Spark"doesn't recognize what an activity is, I can choose from a drop-down list and then it's transferred to the right category. I enjoy checking the Spark Activity Dashboard where I can see all my steps, calories burned, and activity minutes for the day, week, or month.
Love that lights are used to reflect your steps - all 12 lights lit and it gently glows 3 times letting you know you've reached your goal. Want to check your steps? Tap it 5 times and count the lights (I set it for 3,000 steps so each light equals 250 steps taken).

Love the daily GlowGetter motivational trophy that appears when I reach my daily goal.
It's become an integral part of my program and is far more motivational than I ever imagined.
Intrigued? You can learn more about the Spark here:
www.SparkActivityTracker
.com
* * * * * * *
I received the Spark Activity Tracker for free from SparkPeople and did not receive any form of payment for my review.