Fifty Years Ago Today
Saturday, October 05, 2013
As I started to blog this morning, something about the date seemed important.
October 5th? Not an anniversary or family birthday. Certainly not a significant date in history.
Fortunately, I've been on one of my "organize my life" kicks this week and it included jewelry.
The date on this ankle bracelet confirmed my vague memory.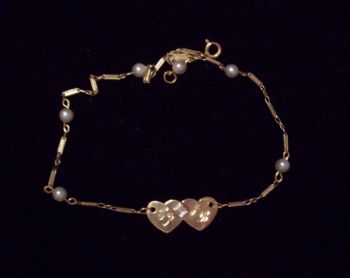 DH and I have officially been together for 50 years. Back in 1963 we didn't say we were "official." We called it "going steady" and 50 years have steadily been going by.
Usually I write about DH as the "junk food king of the world."
Once I wrote about how a chance meeting at a party changed the course of my life.
www.sparkpeople.com/mypa
ge_public_journal_individu
al.asp?blog_id=5212488
This morning, I just happen to be annoyed at him for something. That's to be expected over the course of half a century. So I think I'll change my focus and think about that commitment made by 2 naïve teenagers (16 and 18) long ago. We're still here.