I was watching a Christian TV show and they said before anything happens, first you have to think it. This lined up with my recent thoughts on how psychology plays the most important part in everything we do including weight loss, motivation, taking action and combating stress etc.
If nothing happens until we think it, then thinking comes first and action comes as a result. I know this is a simple fact but it is a huge though to meditate on throughout the day when your mind/thoughts are blocking you taking action for any number of reasons and excuses that we just seem to accept (that self talk stuff that happens and most of the time we are not even aware we are listening to it).
Yesterday I started practicing listening to all the self talk and pushing through those mental excuses and taking action and my energy levels started to increase throughout the day as I got through some things that I have been putting off for so dam long, for no good reason except that 'I couldn't be bothered now, tomorrow is another day'.
By the end of the day I had enough energy to get stuck into my garden and re-do one of my garden beds - I even went driving out past the properties in my area to purchase some roadside horse manure to mix in, Here is the result of my burst of energy - finally the kale is planted!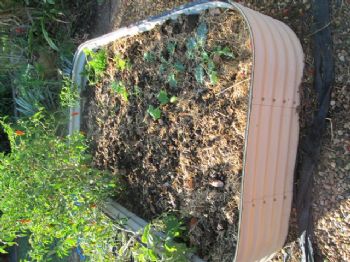 Yesterday morning I concentrated on my stressbuster challenge goals and ended up with 7 of them! They are:
1) Don't put things off that I need to do - deal with them and move forward with renewed energy
2) Eat mainly wholefoods and don't put toxins in my body such as sugar, alcohol and coffee
3) Take time out every day to pray / meditate / and be grateful. During this time I will be quiet and still and breathe deeply
4) Purchase a Pilates DVD and partake at least 3 times/week.
5) Listen to my body and give it rest when it needs it without feeling guilty
6) Become more socially active
7) Laugh more!
As a result of my new stress busting thinking patterns I embarked on getting done a lot of things I had been putting off, particularly paperwork, tax etc. I accomplished this within a few hours and felt a huge burden lift (I even got in the car and took my tax return to the post box to post it off - there - gone!).
Then I worked on catching up with friends who have been waiting on my contact (I've become a bit lazy with my friendships lately whilst I have become more self absorbed). I had 4 friends that were waiting on a response from me, so I sat down and wrote two letters (via email) to two of them and today I'll send the 3rd one a card and another quick catch up to the 4th one to arrange a time for coffee (chai tea for me!).
Then I thought about all the other friendships I had developed over the course of my life which I had all in the one spot on facebook and which I had abandoned when I got consumed with work - my last entry on facebook was about 3 years ago and I have since changed my phone numbers (because I changed providers) so I left many friends who I saw from time to time socially with no way to contact me! There are also people on facebook which I want to delete - they are more acquaintances and after 3 years of no contact I don't count them as friends. Several people I intend to re-spark the friendship where it left off and see where it leads. With this new realisation I know who I want to call a friend and who I don't and I know which friendships to cherish and nurture and which ones to let go. I'm excited about sorting out my facebook friends, but when I went to log in I'd forgotten the email address I had at that time and my password, so technical support is currently helping me to get back in to facebook! So there will be many friendships rekindled when I hit facebook and I'm looking forward to that. I can see the 'instant chat pop ups' now when I log in and am 'online'. There'll be lots of "what happened to you, where have you been, glad you are back!". LOL
THEN I phoned my mum before she phoned me!! That hasn't happened in a while and we had a lovely chat and are catching up on Sunday to go to the markets together.
One of my other goals is to laugh more, so last night when I was watching TV a few things made me laugh out loud. Usually I would chuckle but this time when I felt the laughter bubble up I opened my mouth and encouraged a very loud laugh out and boy did that feel great!
So all is on track and I'm thoroughly enjoying working on the psychological side of my weightloss plan/program and stress buster plan.
Today I have lots to do around the house - I need to clean out the garage ready for the garage sale in 3 weeks time. The tables arrive tomorrow that I need to set up in there. I must mop the floors of my house and wash my dogs as they are malting in the change of season heat (good thing I bought a robot vacuum cleaner recently which I just LOVE and which is actually vacuuming the floors for me now in readiness for the mopping!). My big cook up in the kitchen today is actually hummus which only takes 10 mins to make. I have lots of other things to do also which will keep me busy.
Take care today everyone and stay safe.