At CharterDawns suggestion, I'm doing another blog on our trip to Alaska. Thanks Dawn for the vote to go ahead, it was hard paring the first blog down with so many photos!
This was taken on the Fireweed Trail near Homer Alaska.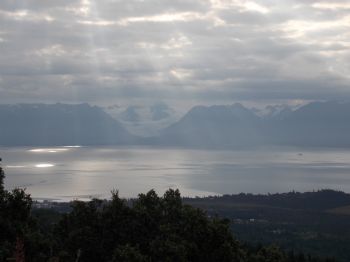 I have to say the Homer Spit was the strangest place I've ever been. Why in the world would anyone build a bunch of businesses literally a couple of feet above the ocean on both sides? And only a few, maybe yards wide in places? Fun to visit though!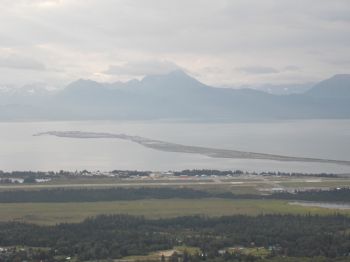 Taken on hike up Falls Creek Falls southeast of Anchorage on the Turnagain Arm.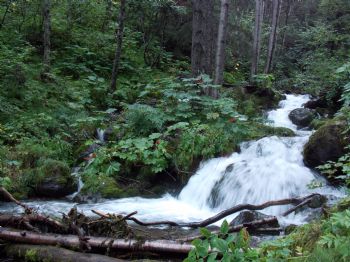 Matanuska Glacier is 26 miles long and 4 miles wide. As you can tell from my winter coat, it was a little chilly here!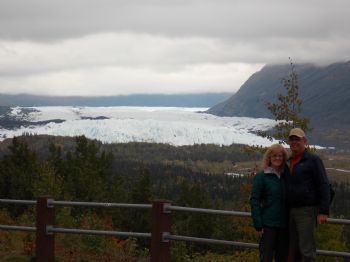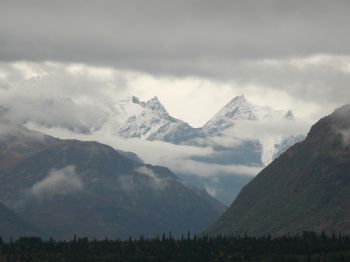 One of the momma Grizzlies we saw with her three cubs. Glad we were on the shuttle for this shot! (Want to know about the green shuttle buses, check out my earlier blog.)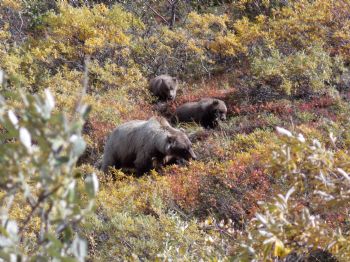 Bull moose in Denali.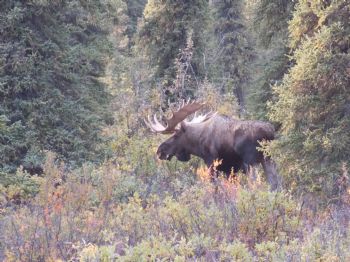 Okay, so these next photos I really hesitated to post. Mostly because of the story that goes along with them. To be honest this is bittersweet for me. We decided at the last minute to do a flight seeing tour with a glacier landing. We hesitated as it's really expensive, but at the end decided we may never be in Alaska again, so we bit the bullet and did it.
When the van came to pick us up, they told us that the glacier landing was canceled due to the unsettled weather, but we could do the summit tour instead and they'd refund the difference. So, we decided to go for it, looking back they should have canceled the entire flight, but more on that later.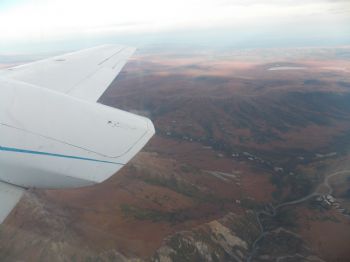 In order to get in a really small plane, you have to tell them your weight. Yeah, I know. Here's the sweet part, I was one of the lightest people on the plane, there was only one little Japanese lady lighter than me. Here's the bitter part, because of that I had to ride in the tail of the plane while my husband was near the front. The hard part about being in the back of the plane is I'm tall enough that I couldn't sit upright as my head was hitting the top of the cabin, so I had to hunch over for the flight. And, it was a rough, rough, rough ride, my head bashed into the roof over and over. Which didn't help with the other problem I eventually had. The turbulence was so bad that half the plane was sick, me included. Sorry, that may have been too much information.
I don't have any regrets about doing the flight tour except that I wish my husband had the camera. If we hadn't done it, I would have regretted it. And now we know! No more small planes for me especially during bad weather! lol!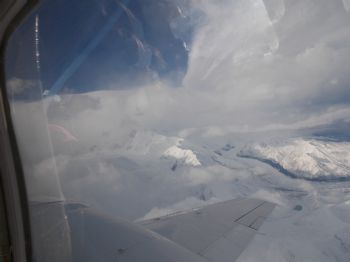 I do wish though that I knew how to say "thank you" in Japanese. The lady sitting in the back with me spoke no English, but she was so kind. She gave me a packet of tissues to help me on the plane and when we got off she rushed to go get her backpack and give me some wet ones with Japanese writing all over them to wipe my face. Who knew I'd need to know Japanese when in Alaska? I still wish I could tell her thank you.
After the flight, we drove about 2 hours to Talkeetna. I spent most of the drive with my eyes closed recovering. Once we got there, I felt so much better and was ready for some lunch. We stopped at the Roadhouse bakery and cafe. What a cool place! They had it fixed up like an old time roadhouse from back in the day. It was long community tables and you could buy a hot shower or a bunk bed for the night. It was just fun! And the clear mushroom soup with maybe four different kinds of mushrooms I had was amazing! My husband had reindeer meatloaf on potato bread, and he's now ready to find some reindeer and raise them he liked it so much! I told him, you know it could be the preparation! lol! We had been warned by a really nice lady in Coopers Landing to pass the cruise ship buildings and go into the old town, that to her Talkeetna is the "real Alaska". I was so glad we heeded her advice, it was a wonderfully fun stop!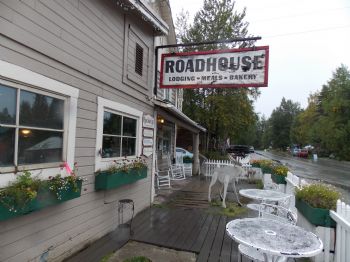 After lunch and a few more stops, we headed to the airport in Anchorage. The only flights out of Anchorage are red eye flights, ours left at just after midnight. So we drank a LOT of coffee. We had been up for 36 hours by the time we got home, but it was doable and so worth it! I will admit that we slept the next night for 12 hours straight! And it felt gooooood!