This I am writing for my Team the No excuses "Fall Fitness challenge"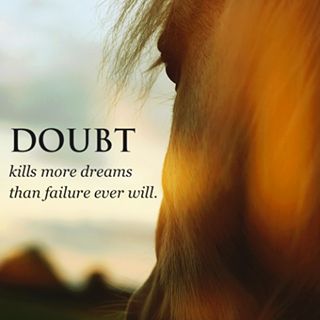 I recently went to a conference for work on goal making and doubt and thought I would apply it here for my team.
"DOUBT KILLS MORE DREAMS THAN FAILURE EVER WILL"
This is a powerful phrase. We all have doubts about this. We wonder if it is worth the struggle and the sacrifices we make. We wonder if we are worthwhile enough to do this journey.
First of all we need to keep our head in the game. What does that mean? You need to keep your mind on the prize and not let doubt or your fears take over. The moment you psych your self out everything spirals out of control.
There are five major things holding you back.
1. LOW SELF ESTEEM
Maybe you just donít think you can handle a workout. You feel as if youíve been out of the gym for so long that the idea of doing lunges or anything other than walking is going to make you feel week, or even worst, make you look weak. Building up confidence is all about positive talk, instead of saying, ďthat workout looks too hard, I could never do it,ĒYouíre going to surprise yourself and just what you can accomplish. Realize you can do anything you set your mind too and as you lose weight you will feel your self esteem soar.
2. FEAR
Why is fear holding you back???
We live in a age where we naturally compare ourselves to others. Just observing people you work with, go to school with or even in your own family you cannot compare yourself to them. What size they are, why their stomach is flatter or why they are prettier.
We canít seem to help it. And because of that we are afraid that others are looking and judging us.
Did you ever have a fear of starting a new workout class like zumba or a boot camp class? Afraid you would look stupid and clammered a spot in the back of the class so if you did a move wrong or could not keep up that everyone would laugh and wonder why the heck you were there in the first place. The only competition you are in is with yourself. Most times most people are concentrating on how they are doing to worry about the new girl in class.
So focus on one and uno -YOU!
3. THE MIND OF THE HARE VERSUS THE TORTOISE
We live in a fast food world face it! We want food fast, fast money at the atm and of course we want that weight gone now! Accept the fact it took time to get there and it will take time to go. The tortoise may be slow but most live to over 200 years old and rabbits around 7 years.
4. ACCOUNTABILITY
Mentally, we need someone to check in with. Self accountability isnít something people have, no matter how hard we try to convince ourselves we can do it.
Find someone you can check in with. This month I am going to post a accountability request for whoever wants an accountability partner and match you up. I have a couple from other teams and it makes a big difference in our success. Look for the post in the upcoming days.
5. FITTING IN
You want to be a part of the cool group. When youíre dieting and a friend ask to go out for lunch or drink night you hate to have to say no because youíre trying to lose weight. Itís likely that your friend will say something along the lines of ď oh give me a break, one night wonít hurt.Ē Or something negative. Of course you donít want to feel like the uncool girl in the group, so you give in to peer pressure. Peer pressure brings us down mentally and can take us away from our goals.
How many times have you been the odd man out because you did not want the birthday cake some one brought in? This actually happened to me last week at work. A Co-worker wanted me to try these chocolate gummy bears she brought in. First of all I really think it was to sabotage me because she is overweight and constantly tells me there is too much going on in her life to concentrate on losing weight. She asked me like 5 times and I kept to a "NO!". If I am going to have a sweet or chocolate it better be something worthwhile and not a chocolate gummy bear. She got very offended with me and would not speak to me for days and then gave me the speech "when her life gets easier she will lose some weight." I wanted to say "what an excuse because really does life ever get easy?" I didn't and just kept my mouth shut and my other coworker observing the whole confrontation just smirked and then laughed because we both knew it was a crock.
So don't let the doubt hold you back. Get out there and do it.
Stop worrying about those around you, if they are real friends theyíll support you and stand by you. You wonít be tossed out of your social group.
REMEMBER NO EXCUSES. JUST DO IT!!