Thursday, October 03, 2013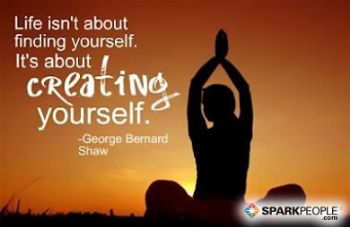 We hear so much these days about celebrities who are constantly re-inventing or re-creating themselves (think Madonna, Miley etc). While their personal recreations of themselves are usually the extreme, I got to thinking how I could create a new me.
A few years back, I was in my hometown visiting my mom with my kids and I dropped them off at the pool. I had just gotten back home, when I got a call from them telling me that the pool was closing (20 minutes after it opened) because there weren't enough people there. Well, this was simply ridiculous in my opinion. How could these teenage lifeguards possibly know who would show up at the pool in the next hour or so? So, I called the parks department and was surprised when the person they directed me to was an old high school teacher. After our conversation, he ran into my mom and told her that "he couldn't believe that it was the same Ann that he was talking to." Really, he couldn't believe that I wasn't the same shy 15 year old that he had in History class and Driver's Ed? Why do people assume that we will always stay the same? Why should we stay the same? Who wants to stay the same?
I know who I am as a person. I know my strengths and weaknesses. I have a pretty good idea of what my gifts and talents are. But, I also know that there is a lot more I can do to develop my strengths and to be the best me that I can be. And that "best" me changes every day, every year.
This journey to healthier lifestyle is about embracing change. Yes, it would be easier to not put myself out there with blogs and posts and trying new forms of exercise; but, easy had me afraid of really being me and showing people who I am. I'm excited to see who the person I am "creating" will be when I reach my weight loss goals. Then, I will get to work on creating an even new and better me.