Itís been less than 48 hours since I got back to Boston from the Olympia in Las Vegas. I had such an amazing experience but man am I exhausted!
A few months ago I was invited to work the booth at Vitacost.com. Obviously I had to say yes! I got to hangout with my best friend, represent the Get In Shape Girl and meet lots of the fitness pros and models Iíve been following for years.
We arrived Wednesday evening to set up the booth. I cannot even begin to tell you how many boxes of Dymatize samples we unloaded. See Vitacost.com sells everything from protein supplements to Bobís Red Mill almond meal to Seventh Generation cleaning supplies. Obviously we focused on giving away sports nutrition samples from other companies as well as their in-house Aro line.
Over the course of the two days of the actual show, I met and chatted with new fitness friends as well as those Iíve known for a while such asÖ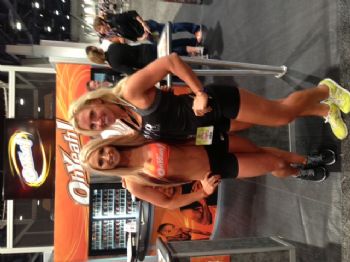 Amanda Adams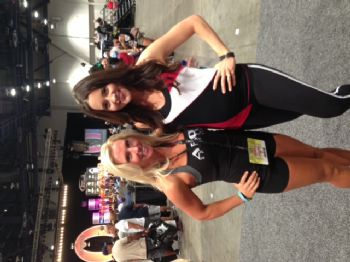 Kelsey Byers
Danny J from the Sweaty Betties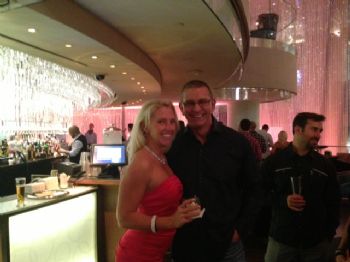 Robert Irvine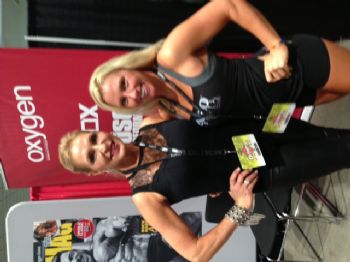 And the Queen, Tosca Reno
One thing Tosca said to me really stuck with me and I think itís important for all of you to hear as well. First of all, before I get into that, her skin was glowing. Same as last time I met her. She literally glows. (I think you know why.) In the last year she has lost her husband to cancer, took over his position as CEO only to file bankruptcy three months later. She is 53 years young, and she has been put through the ringer. She will openly admit it too. I commended her on how open and honest she has been about the whole thing and wanted her to know that we all love and support her. Here is what she told me that really stuck.. She said had her healthy habits not been instilled in her, it could have gotten really ugly.
And that is the thing! You guys email me and tell me about your stresses and how you handle them. When you eat clean for long enough, it becomes second nature. Your body is less likely to reach for comfort food in times of stress. When you exercise often that is what you do to release!
I love Tosca Reno because she is so honest. She told me straight up that itís been really hard for her but that she feels confident now that she, her family and her businesses will prevail. I swear this is the highlight of my trip!
Tosca and I also chatted about how the bodybuilding and supplement industry can get really carried away. Thereís a pre-workout, an intra-workout, a post-workout, a powder to take before bed, one to take on an empty stomach, a pill to take to get smaller, get bigger, the list goes on. Some of these things may help, but at the end of the day if you arenít eating clean, sleeping enough, drinking a ton of water or doing the right workouts none of these things are going to help.
And this brings me to why I chose to work the booth with Vitacost.com. I didnít go with them because I love bodybuilding. As a matter of fact, the entire weekend made me even more secure and happy that I compete in a performance based sport. But I went with them because they arenít just magic pills. Yes, if supplements are what you are into, then they have those. But Vitacost.com is so much more than that. They have so many healthy foods like apple cider vinegar, coconut oil and almond butter.
The relationship between the two companies (Vitacost and The Get In Shape Girl) just works. I have followers who have run marathons, competed in figure, are powerlifters and some of which donít do any of those things but just want to lose a little body fat and be happy and healthy. And thatís why I partnered with Vitacost because they have what it takes to support all of those goals, not just building muscle or getting ripped.
Now itís your turnÖ
Do you use any supplements?
If so, which ones?
If not, have you ever tried any and gotten nothing out of them?
Leave a comment below!
Kyra,
The Get In Shape Girl
P.S. Get $10 off your first order at Vitacost.com with my code -
https://www.vitacostrewards.
com//referrals/webReferral
Update.pg?EmailId=65900018
5709&ReferralId=659000185697