Wednesday, October 02, 2013
Hey Kids! How's it going? Good I hope.
Can you believe it is baby Hope's 3rd birthday?! She had a birthday party on Sunday but wasn't feeling the best but we still managed to have lots of fun. Can I tell you how she just melts my heart? I was squatting down, talking to her and she put her cute little hands on each side of my face, looked at me and kissed me. Her birthday party happened to be the 3 year anniversary of my divorce but no one else had realized it. She was pretty owly and cranky but not to me. When I left she let me pick her up and snuggle her for a little bit before I left. I guess she knew I could use a little extra love that day.
I knew the anniversary was coming up but I couldn't remember which day it was. I knew it was the end of September but the actual date escaped me. One of my best friend's had a son on the day and she posted on facebook a happy birthday to him so that's when I realized it was Sunday.
I ran my 12 miles and was able to sort out whatever feelings I was having about that day. To be totally honest I felt ok about it in general. Maybe even a little excited to cross the 3 year mark. I wasn't sad or anything like that. The only ping of sadness I feel is when I think back to how devastated I felt. It's hard to remember how awful I was feeling in those days. More than anything though I felt proud. I feel proud that in three years I am in such a good place and feeling mentally healthy. I'm proud that, even though it was really hard, I worked through all the sucky emotions that I was left with because I see others that can't do the same. I'm so thankful and happy for where my life is now. If I had known then that in 3 years I would be in such a good place, I wonder if I would have grieved the loss of that old life so hard. Either way I'm glad to have that chapter of my life over and so glad to be in the one I'm in now. So if you find yourself in a real sucky place know you can and will get through to a better place if you want to. You can also stay stuck and sulk to but I decided I didn't want to spend my life bitter like that. The choice is yours.
This weekend is Camp Amanda! I'm so excited but I guess the weather may not cooperate with us very well. I hope it turns around and at least doesn't rain all weekend. I can handle the cold but the wet can really go. I'm with the 4th and 5th graders again (the 3rd time now) and I'm looking forward to the weekend. I took a half day on Thursday and Friday off so I have time to run my long run Friday before camp and get some stuff done. I think it will be a good weekend overall.
The half-marathon is 18 days away! It's on October 20th and if you want you can track me. Here is the link if you are interested...
tracking.endresultcompan
y.com/2013/dm/index.php
After my 8 miles tonight, there are only 9 more training runs left!
Anyways I hope everyone is having a good Wednesday! Here are some pics...
Baby Hope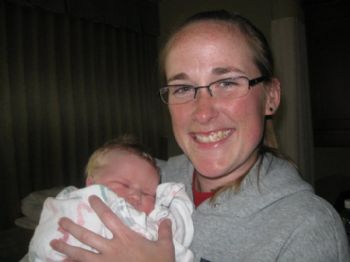 Hope and her cake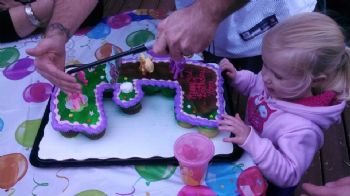 This summer at a family picnic