Wednesday, October 02, 2013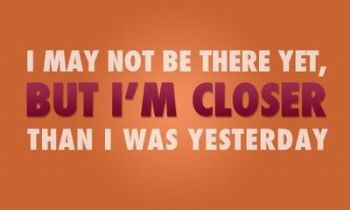 Losing weight is a gradual process. I gained it over time. I will lose it over time.
I need P - P - P - D ! That's Patience, Planning, Perseverance, Determination.
Patience because the whole process takes time.
Planning because I need to know what action steps I'm taking to achieve my goal.
Perseverance because I need to continue with what I'm doing despite the temptations that cross my path.
Determination because I made a commitment to myself and I'm doing whatever it takes, no matter how long, to achieve my goal.
Creating change requires both mental and physical participation.
My mindset gets worked out, the same way as my body because I'm learning and mastering coping skills and strategies so I can continue to be the healthiest I can be.
How are you closer today than you were yesterday?