Well that's what hubby calls it. I call it being good and stuffed!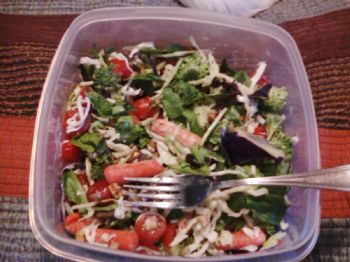 These are "about" measurements:
1.5 cups of mixed lettuce
1.5 cups of shredded cabbage
handful of baby carrots
about a cup of cherry tomatoes
.25 cup of sunflower seeds
.25 salad pizazz honey walnut 'n apple
about 1.5 cups of chopped broccoli heads and snap peas
about 2 tbsp of kraft fat free ranch dressing
.25 shredded mozzarella cheese
and the total calories are .......... 562. 59 carbs. 29 fat 21 protein.
It's 6:11 and I am STUFFED!!! I think I would puke if I ate anything else stuffed!!
So I doubt if I eat anything else for the night. But I can have a bite if I really need it. right now I'm 1538 for my calories and my limit is 1550. but I think I will be set.
I haven't done anything today, just sat and watched Napcar. It's been dark and wet all day, my eyes don't want to work right, I slept terrible, which is normal for me. Every Saturday night I can't sleep. I say it's the devil trying to keep me from church on Sunday. he failed today, I went.
Well that's it for me, going to go back and curl up and watch TV. I hope you have a wonderful week!

Becky