Looking back over my many years of weight loss and regain, I realize that I spent a great deal of time either behaving like a perfect angel or a spoiled child. I was the Kellogg's Frosted Mini-Wheats of dieters. The good child in me was the plain, shredded wheat side, the perfect dieter who almost never deviated from plan and would lose weight and get to goal quickly. The little devil in me was the frosted side, the one who resented having to put so much time and effort into managing my weight and would return to eating what I wanted, whenever I wanted to. Until just a few years ago, that side of me had always taken over, meaning that I never stayed at goal for long once I got there.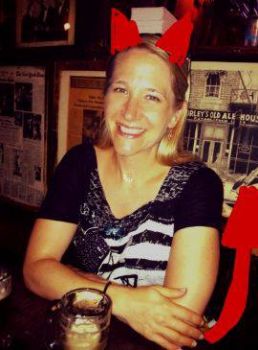 In addition to working on strengthening my resilience and continuing to dig deep for new sources of motivation to keep going as I focus on getting to my second maintenance anniversary, I've also come to terms with another important aspect of conquering my weight-related demons: acceptance. For me, acceptance means dealing with the things that I have control over and learning to live with the things I can't. I can't change my genes, metabolism, body type or fact that, no matter how hard I try, I can't eat intuitively, so there's really no point in getting all pouty over it. The only place resentment of the hand I've been dealt ever got me was 260 pounds.
Fortunately, now that I'm back down in my goal range there are tools I can use to ensure that I stay there. When I started losing weight again nearly four years ago, I resolved to make moderation a greater part of my life. I didn't realize it then, but that's been a huge help to me in maintenance. I've consistently eaten and exercised in a way that I feel is sustainable long-term and staying as stable as I've been in maintenance underscores the importance of not pushing myself too hard. Yes, I have periods where my motivation is incredibly high, my diet is near perfect and I'm exercising like a professional athlete. I also have my low periods, where I'm eating too much, too often and I'm doing the bare minimum physical activity. But most of the time, I'm somewhere in between. Eating reasonably well, but not perfectly. Working out consistently, but not obsessively. And that's usually when I really feel my best and most confident that I can keep this up for the rest of my life. I might weigh a few pounds more than I do after a month of boot camp and I might look a little fleshier, but I'm also not pushing myself to the point of absolute fatigue with every single workout and I'm not agonizing over the carb-fat-protein ratio of everything I put in my mouth. I accept that I can't maintain that level of fitness and dedication 12 months a year. That's okay. Where I am the other 11 is good enough.
I also feel very lucky to be able to take advantage of the crutches I need to stay on track. I still need to log my food most of the time and I can do that pretty easily here. Yes, I get annoyed with having to do it from time to time, but it works for me and I'm glad for that. I also need a good support system. Having done my first stint on Weight Watchers at eight years old, I always liked the weekly meetings. I was very shy as a kid and probably wouldn't have been able to talk about my struggles if it weren't for the handful of compassionate leaders I had and great groups I was a part of. The meetings also made me feel less alone and I liked how you always had people to cheer you on when you were doing well. With age, I've also come to appreciate just how helpful a solid support system is when things aren't going so well. If support systems sole purpose were to give you a boost when times are good, we wouldn't really need them. It's when things aren't going so well that they become essential and can prevent you from regressing and reverting to old, negative behaviors. There have definitely been times in the past four years that I've been hanging on by a bare thread, but having the courage to stay connected here on SparkPeople and share my struggles has helped me claw my way out of the little ditches I've fallen into along the way. This is the safest community I've ever encountered and I'm so thankful to have found it and carved a place for myself in it.
Keeping up a healthy lifestyle is not always easy--at least not for me. Temptations seem to lurk around every corner and I know how easy it's been for me to get derailed by them in the past. But I don't want to go on reliving my past failures or using them as an excuse not to keep on trying. Sure, sometimes I still want to throw a little temper tantrum about how unfair it is that I can't just eat what I want all the time, but letting go of that resentment has made me feel like weight management is not the life sentence I once thought it was. I have a manageable framework I can deal with to keep my weight and health in check and for that I'm very grateful.