Is was raining really bad this morning when my alarm went off to wake me up for my Saturday morning 4 miles walk with my Spark Friends.
I decided I was staying home and walk in the treadmill as the rest of the week. Since I had the time today I did something I wanted to do for a long time. I put together the weight I have lost so far in my journey inside a back pack.
I first bagged in zip lock bags fresh cat litter until I ran out....I don't think my cat would had like if I took the one in his box....

I had just 14 Lbs in my back pack and I walked a mile. Just the little bit more made it so much more difficult, my back started to feel the weight and even my knees and ankles. While I was walking I look around to finish filling up my back pack and really see what 34 Lbs really feels like, here is the result: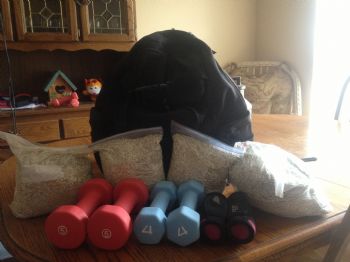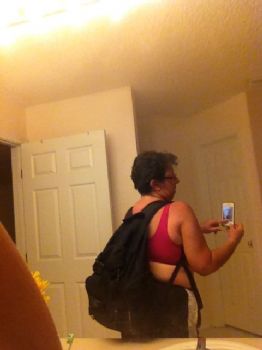 This is what the back pack looks like....heavy enough to have to make an effort to carry....I don't think I could walk the whole mile, but I will try tomorrow.
****************************
**************************
*********************
My virtual road trip is going good, it has inspire me to walk and ride my bike....actually I like the bike even more because I can rack more miles in less time.
No more dust on that bike...

I have walked 74 miles as of now. I hope you are enjoying the pics of my journey.
Have a great weekend everyone!