Friday, September 27, 2013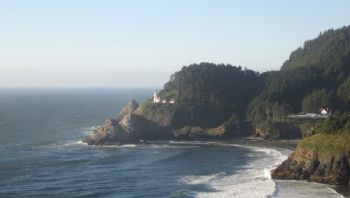 Back from a great time in Oregon for a few weeks. I worked for two weeks as a volunteer on a land records digitizing project for the US Forest Service. It was my first time as a PIT (Passport in Time) volunteer and a good experience. Met some great people, camped, walked beaches and trails, ate fresh seafood. Had only one night of heavy rain and no leaks in the tent! The rest of the time was sunny and warm or foggy and warm.
I wasn't sure how I was going to manage my improved lifestyle and eating habits developed since joining SparkPeople. It was my first time without using the food tracker and other tools. I don't have a smart phone and didn't take a laptop. No internet in the campground. Took a small notebook to keep a food diary in lieu of the food tracker but didn't use it. I was surprised to see a 2-lb weight loss when I got home. I'd eaten potato chips occasionally, pizza, seafood lasagna (scallops, crab, and shrimp in light cream sauce - fantastic!), fish and chips (skipped the breading), and one night marshmallows over the campfire. I didn't expect to lose any weight.
OTOH, after work was done each day and on the weekends, we walked beaches and trails, explored tide pools, etc., so I got a little more exercise too. A lot of the time I stuck to the same eating habits and foods as at home. We dined out only a few times. I planned our meals and shopped for 3-4 days at a time. That was better for the budget too.
I think the keys to avoiding vacation weight gain were making our own meals, keeping to foods we usually eat, exercise, and enjoying an occasional indulgence that for the most part was not too bad, like the pizza loaded with fresh veggies and very little cheese. Now the challenge is to get back into using SparkPeople again and the food tracker. I'm starting to eat foods I was avoiding before. Need to revive the healthy habits! As the ad says, "Just Do It."