So, I had a little melt down last week after I came back from vacation and realized the mounting stress I had been away from! Who wouldn't...look how much fun I was having!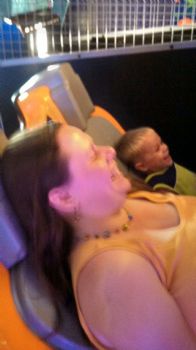 And of course since I was on a trip where the food is included in the cost, I ate my money's worth. Proud of myself for tracking every delicious bit of it though!!!

I had to work hard not to stress and worry this week about going back to work after 10 days off with my loved ones--but I think I licked that too. This was all thanks to working on a team challenge where I learned some tricks for stress relief.

And now the big celebration moment...






I managed to stay in my calorie range and burn off a little more than I took in every day so far this week!! This is a big deal. I don't think I have ever made it past 4 or 5 consecutive days, and now I am at DAY 6!!!!!







I think this weekend it should be easy to continue soaring and accomplishing...I don't have a lot of big exciting plans and I feel pretty good to take a nice run or walk.
I haven't been at peace like this for a long time, but remember to ask myself two questions any time I am:
1) What am I most looking forward to, right now?
A nice October to celebrate a

, hosting a

for the first time (It's for Pampered chef), and just having a little time off work...also hoping things settle down a bit there.
2) How will I prepare for a time when this may fade?

on my efforts to eat and feed my family with healthier foods, live in my space, and just trying to stay ahead of the game.

If you have taken the time to read this blog I wish you peace as well. Have a great weekend!