Thursday, September 26, 2013
So next week is my 3 month weigh in and measurements and I've outlined some goals to reach by next Wednesday:

Weight of 150.4 lbs or less

Start week 2 of C25K

Reach 25 lb lost mark
I am officially a size 6 in pants now! The 8's were falling off me yesterday and I had gotten my waist measurement at a lower number so I tried on my 6's and they are perfect. The thing is, I bought these pants at a size 8 and a size 6. They are the exact same pants. I bought them to see when I would transition into the next smaller size so it looks like I'm still wearing the same pants. I'm bound to confuse people.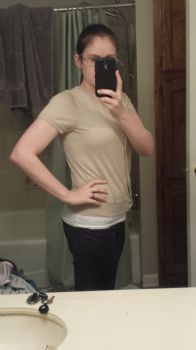 I was even a bit more daring and tried on the size 4's and they fit at the waist but alas my thighs are still too curvy and the pockets looked weird. I thought I'd have to wait until 145 to be a size 6 but now I think that will be more of a size 4. I don't know, guys. Last time I was in the 130s I was 20 years old. I'm older now and maybe that weight is gonna look completely different on me now that I'm 25. We'll see in 2 months I guess.
My arms look smaller...
89 days left.