Exercise - a reward
Thursday, September 26, 2013
It's cleaning day - not just house cleaning but b&b cleaning which of course sometimes needs to be done other days when guests are in during the week or back to back on weekends, but the bathrooms just loom over me like a vulture waiting to be cleaned and I may have mentioned previously that I don't like cleaning although it's important to me that the b&b look as clean and fresh as possible. So, today, I couldn't do my walk/run until my work (well most of it) was done. 4 bathrooms done, 4 loads of laundry in process and I can go. It's a beeeeaaauuuttttiiifullll day out. I did good too. I did 4 miles in about 56 minutes:) My best mile time was 12:02 - that's what I listed for my baseline TNT. I had a 12:50 and a 13:47 as well as a warm up mile. I know you're not interested in the details, but when you're walk/running the seconds come off slowly and slowly, but do come off. And I will note I did it on my own again. This of course leads to my motivational quote (more the picture) for the day: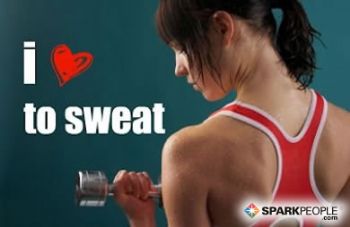 This one is somewhat tongue in cheek. A good sweat is a good thing and I came home dripping. As I was running a rivulet slid down by my eye and slithered down my cheek and probably joined the collection of sweat beads being absorbed by various undergarments and overgarments. It does feel good (at the appropriate time I might suggest though)
So, I guess that means I should enjoy the BLC23 weekend challenge - breaking a sweat. Hope my daughter can join me in a walk/run this weekend. Gotta figure out how to get appropriate rest too. Hmmmmm..... Well gotta get back to cleaning and finding more stuff to send out for bulk garbage pick up. Hope ya'll break a fine sweat today.