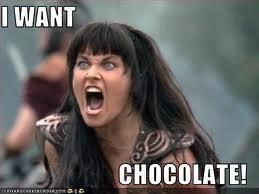 I have been having the worst cravings the last few days! All my mind is screaming is chocolate, chocolate, chocolate!, CHOCOLATE! Hey You!!!! I said CHOCOLATE!!!!!!!!!!!

I guess we have all been there! So, I decided to try one of the deserts in my 123 diet book, and oh my days! It makes a lovely creamy, light and fluffy mousse. It is soooo good and far too good to be good for you!!! But I can't see how it wouldn't be! Low fat, low carb and high protein. Also very low sugar too!

Ingredients:
1 packet sugar free jelly crystals (any flavour you like really!) I used orange
2 egg whites
500g Natural fat free yoghurt
One quarter cup of hot water
Method:
Whisk the egg whites until they form peaks and are thick enough to stay in the bowl when tipped (I suggest just tilting it, just in case, wouldn't want it all falling out, unless the kids or hubby are annoying you, then maybe try it over their head hehehehe)
Tip the yoghurt into a bowl. Use the hot water to dissolve the jelly crystals, keep stirring so they don't stick together. Add to the yoghurt and stir until well mixed. Fold in the egg whites. I do it in stages, but you can do it however you like. Once all mixed together cover with cling film. Put in the fridge to set, usually about an hour.
Serve and enjoy!! Hopefully sweet cravings cured!