Last Saturday, Jordan and I, as well as some of our friends, completed a goal of ours. We participated in - and finished! - the Tough Mudder, Topeka!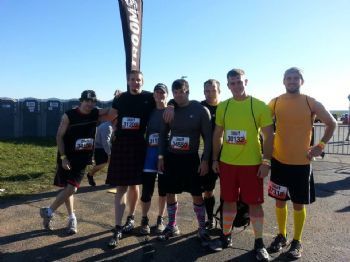 This is us BEFORE the Tough Mudder. Jordan wore a kilt with his family clan's traditional colors. (Don't worry, he had compression shorts on underneath!) lol. And I'm the only girl in the group, in the blue shorts.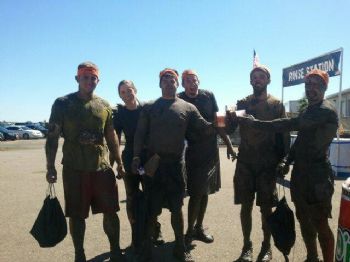 And here we are AFTER! For some reason, I took off my hat and sweatband for this picture, but I DID complete the challenge!
Let's see, where to start... The course was 11 miles with multiple obstacles, such as jumping over fire and hay bales, crawling through mud under barbed wire, taking an icy plunge in a dumpster full of ice water, and many many more. The course had lots of turns in it, so at some points we saw an obstacle ahead but didn't actually come to it for a few miles, and had other obstacles before it.
I skipped 3 obstacles. "Just the Tip" was shimmying along 2x4's over a big puddle. I can't accurately describe this obstacle, so if you are interested, here's a youtube video that kind of shows it. Although I will say, the 2x4s were way more muddy and slippery during our race than this video shows. SOOOOO many people fell in, and there was a note saying "Strong Swimmers Only" which is why I decided to bypass this one.
www.youtube.com/watch?v=
LlriVa_9BnM
The other one I skipped was called "Dark Lightning." You had to crawl through a tunnel 1/2 filled with water, with electrical wires hanging down. If you, or anyone else in the water with you at the time, got a shock, everyone got a shock. I almost did this one, but when I stuck my head in the tunnel and all I heard was cursing and screaming, I chickened out...
The last one I skipped was "Walk the Plank" which was a 15' high dive into icy water below. Again, "Strong Swimmers Only" plus I'm scared of heights...
But I at least attempted all of the other obstacles! One that I was very proud of myself was called "Funky Monkey" which were monkey bars that extended over... you guessed it, icy water. The first half had a slight incline, and the second half had a slight decline. I almost made it across! I slipped once but was able to catch myself, but about 4 bars from the end, I fell in the water.
The scariest one was the "Cage Crawl." Again, kind of hard to put into words, but basically, I was laying on my back in water and pulling myself along by the chain link fence placed over the water. I was doing ok until the very end. There was an incline to get out of the water, but being on my back, I didn't know how close I was to the end, and my face was going underwater and I panicked. I was able to turn underwater and swim my way out. I only ended up being about 5 feet from the end, but when you start to panic, you need out ASAP. When I got out, Jordan had to support me for about 2 minutes because my legs were like jelly and I was unable to walk. Very scary.
www.youtube.com/watch?v=
Zlm3qQM2X2I
The toughest and muddiest obstacle was aptly named the "Mud Mile." It's ONLY redeeming quality is that it wasn't an actual mile. It was maybe 100 yards of muddy hills and trenches. It took us about 30 minutes to complete this obstacle! It definitely required a team effort! The easiest way we found to do it was to had the person at the top of the hill grab someone's hand from the bottom. While the top person slid down the hill, the other person would climb up. It was such an energy zapper, placed at mile 9 so the last 2 miles were extra tough. Our clothes were totally covered in mud, which felt very heavy. This video does not do it justice and looks WAAAAAY easier than our Mud Mile! The muck was up to your knees at some points, whereas this video looks like just water in the trenches. The hills were so slick and slimy. But at least the video will give you a clue as to what it was like.
www.youtube.com/watch?v=
6lsJ3t6z-aQ
They say that the Tough Mudder is a challenge, not a race, and I totally agree. It took us about 4 1/2 hours to finish the 11 mile course. But we did it! We had fun and that was most important. Jordan and I are really proud of ourselves, and hope to be able to do the Tough Mudder in Scotland someday!
Oh! And my toe held up ok. :) No pain anymore, just waiting for the nail to grow back over the next year or so.