Wednesday, September 25, 2013
Today was a good day. I tracked my meals and went for a walk in the evening. I'm feeling better already and my cold is almost gone (fingers crossed!). It was such a lovely weather outside, crispy and cool. It's been unseasonably warm here lately but now it's suddenly changed for unseasonably chilly. I don't mind though, it was really refreshing to walk outside in the cool air after being inside sick for a couple of days.
As I'm now restarting my program, I'm going to focus on three small goals for the next two weeks as I did during FastBreak. My goals are:
1) Track your meals. [x]
2) Go for a walk each day. [x]
3) Write in a journal. [x]
Doable and yet challenging! Especially the first goal. It's fairly easy to track during the week but I've always found it challenging on the weekends. I know I can do it though, and I know it'll make a world of difference.
Today's calories: 1695
Calories burned: 254
Calorie differential: -389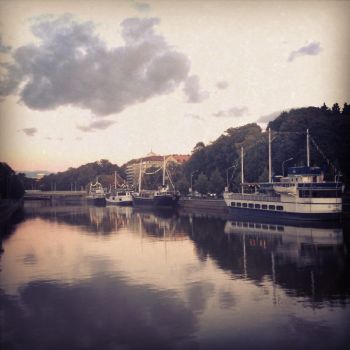 I took this picture on my evening walk. It's beautiful, isn't it? :)