Tuesday, September 24, 2013
I'm starting over today. Right now.
I'm taking the first step towards new goals and new challenges. I'm not scared because this is what I really want, and I know I'm ready. I feel like I've now processed the difficult feelings and issues that have been weighing me down lately, and I'm finally ready to let go and move on.
I'm excited. I lost the first 30 pounds fairly easily with the help of SparkPeople and my friends and I know I can do it again. I just need to put my mind to it, stay focused on my goals and track my progress effectively along the way. When I lost the first 30 pounds, I tracked my meals most days of the week. I need to start doing that again, PERIOD. I know it's a pain sometimes, but it really helps and keeps me accountable. I also need to do more cardio (I now do about 240-260 minutes a week on average) and I want to start a strength training program. I haven't been doing ST regularly but I really want to get toned so I need to make a plan I can stick to.
Right now, I'm writing down my goals and resetting things to make this fresh start official. I want to make sure every goal I set is attainable and realistic, but also challenging enough to keep me focused and motivated!
My goal is to lose about 3 pounds per month. I think it's completely doable. My plan is to reach my goal weight of 120 lbs by this time next year. I'm giving myself a year to lose this weight because I want to take it slow and not make any changes I can't live with in the long run. I've done this enough times to know what works and what doesn't.
So, here we go! DAY 1. I'm ready to move forward!
Today's calories: 1620
Calories burned: - (I have a terrible cold so I've been staying in bed today)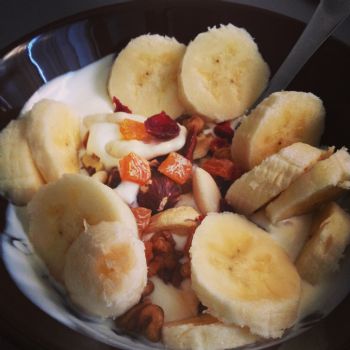 This is how I started my day: Greek yogurt with nuts, dried fruit and half a banana :)