Karijini National Park
Tuesday, September 24, 2013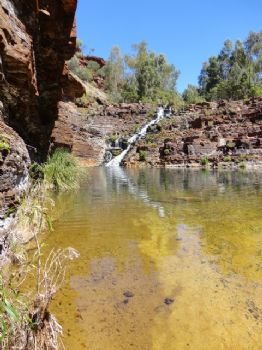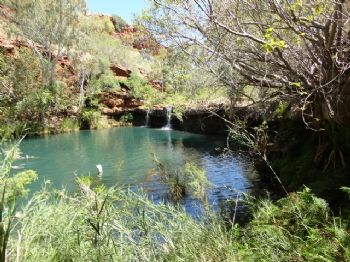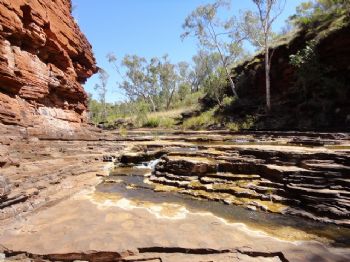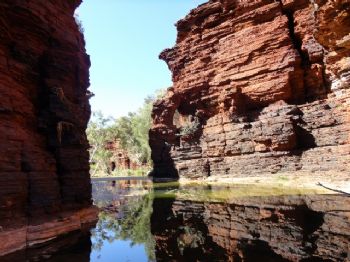 I thought I'd share photos from my hike on Sunday. It was a decent drive. Thankfully much less of it was dirt road than I'd originally thought. However I hit the dirt part after dark and there were lots of cows and kangaroos trying to jump in front the car. Missed all of them though :-) The hiking was amazing on Sunday. Lots of water in what is nearly desert. They don't get much rain there but lots of evidence of flooding the gorges, definitely a place to avoid in a storm! I went swimming in the pool in second photo. Glad I left earlier enough to get in some hiking.
There is not a lot else going for this area aside from the national park. Newman is a mining town so it is busy 7 days a week and the mines seem to run 24 hours a day. There are people living in all sorts of accommodation and lots of cheap small places that are built for the mines. Will be a very odd place in 10, 20, 50 years when the mines shut down. I'm staying in the donga behind the clinic. Two downsides are minimal cooking equipment and the fact there is a dog staying at the back corner of the clinic which is probably about 10m from my room, so when it wakes up for no reason in the middle of the night and shakes it's e-collar against the tin walls it wakes me up. I think it wanted to get out last night as it pooped in it's pen but unfortunately I can't get in the back door so can't go see it without heading all the way around the clinic. It has plenty of space anyway so I don't feel that bad for it.
And another downside I just happened to see, aside from a few cockroaches is the mouse running around.... Anyway I'm making good money without doing too much work so I don't really mind. Unfortunately I also have to drive 2 and 1/2 hours to a branch clinic to do work. And the last appointment is at 445, so I'll be driving right at dusk. Lots of animals on the road so not ideal. Especially since prior to that the appointments finish at 3pm. I feel bad for these people in remote towns though and they've been cancelled on 3 times so I'll hang around and deal with it.
Anyway enough bitching. I am finding it hard to deal with this unsettled lifestyle. Hard to establish an exercise routine, or get help for my leg, or cook. I'm still eating too much but have done some exercise. Ran/walked for an hour tonight, it hurt but I enjoyed it. Totally failing at getting up early but I keep trying. Probably doesn't help that I'm getting woken up by the dog I mentioned earlier.
I'm also quite worried about holding everyone else up in the tough mudder. I really would like to lose a little weight before next month. Since I had a ridiculously long plateau and then did marathon training last year and then have been gradually gaining since I thought I'd look at what I was eating back when I weighed this much and was still losing steadily in 2011. I noticed that my plateau did seem to start a bit when I started eating bigger breakfasts. When I went from 180 calories to 350calories I didn't lose as quickly. I also started eating more snacks, healthy ones but more of them. Eating a bigger breakfast and healthy snacks should help keep my appetite in track but I really don't think it has helped much. I still eat too many overall calories. I think I may go back to my previous breakfasts and see if that helps keep my calories down a bit.
If I don't make changes I can't expect things to change! Now it is off to bed so I can get up early :-)