Tuesday, September 24, 2013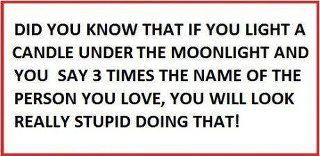 Sometimes, life is just random, don't you think? And sometimes I am just random too. Not that is any point to those 2 sentences, as I said, random hehehe. Just like today picture, nothing to do with the blog, I just thought it would make you smile..... it did me.
I took Dandy out early for his morning walk and it was such a nice walk. The weather was pretty non-descriptive, a few grey clouds, a soft morning fog so the air was damp, not hot and not cold either, perhaps just a little muggy. It was the art work along the way that took my breath away and made me sigh a soft sigh of..... almost honour that I could see it. It was the spider webs you see, they were all over and so delicately made, and so perfect in their imperfection. The light morning fog and a light dew had rested on them and they stood out so clearly. I knew they would not be that visible for long, and soon the mist would lift and the droplets would dissipate and they would be as invisible as they always are. But for that moment, for that hour or so, I was blessed with vision.
They are kinda like life aren't they? There has to be a delicate balance, if you put too much in one place, it will topple, not enough and it will collapse, but get the balance right and you will have something that is beautiful.