Have I mentioned yet that I love riding my bike? I really do.
And this weekend was great to be out riding. At least it was on Saturday. Wifey and I had a scheduled event ride lined up.
The Hood River Harvest Fest Ride.

The weather was looking pretty iffy ... and I don't have any rain gear, so I was a bit concerned at first. But my rain jitters left as soon as we got to the location (about 90 minutes away). The day was stunningly wonderful. Sun ... and cool air to ride in. We also had a choice of 5 rides to choose from. (Actually, you could link up rides from one route to the other.)
We did the Parkdale Loop. The BLUE route. It was shorter than some of the others at 27+ miles ... but we also had to get back home to our pups...so we did not want to be gone for too long.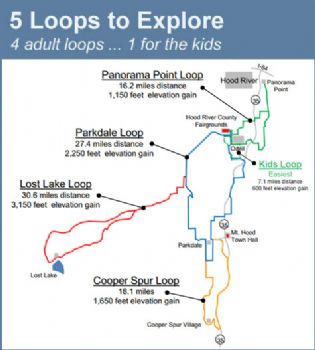 Along the route we stopped at a couple different orchards. It was a fun trying out the fresh pears and apples and corn. We bought about a dozen apples, a bag full of pears, and even some fresh picked corn. Mmmmm. And the best part? We could leave them at the orchard stand where it would be picked up and delivered back to the Start/Stop location.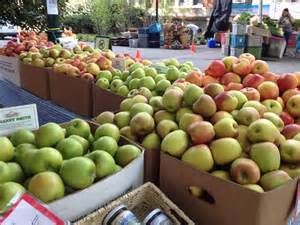 As for the ride itself, it was a fairly decent climb upwards for the first 13 or so miles. But after the halfway point it was mostly down hill. And lunch was waiting for us at the Start/Stop point.
I figured that we'd get back fairly quickly once we started zipping and zagging our way down the valley.
I figured wrong!
At one point wifey took the lead.
She blew past one of the route markers. I called out to her to stop and turn around. I should have taken notice that wifey was in a "I'm not paying attention" mood and taken the lead.
But no. I must have been in a "I'm not paying attention to my wife not paying attention" mood. We were having fun. Paying attention is for the other guy right?
Anyway, after a few more miles down hill, wifey was getting a bit ahead. I then noticed as I was trying to catch up that she had blown past yet another route marker. And I yelled out REALLY LOUD to her.
Did she hear?
No.
I waved my arms. Did she look in her mirror and see me?
No.
I called her on the cell phone. Did she hear it ringing?
No.
What she did do however, was to keep whizzing down the roadway at a speed that told me I had better stop trying to contact her and catch up with her. So I hopped back on my bike and raced pell mell down the hill towards her. She was by now over half a mile away. I rounded a curve and she was nowhere in sight. Damn.
About a few miles later I came to a TRIPLE FORK in the road. Aggghhhh. Which way did she go? Downhill right? She'd go downhill right? Off I went....after about 2 miles I figured she must have gone on one of the other roads. I mean, she would have noticed by now that I was not in back of her. She would have waited. She would phone me.
I went back up the road and rode the other forks for about 30 minutes. Hmmm. No wifey. No phone message.
I finally left her a message (my 3rd or 4th at that point)...letting her know that I would head back to the Start/Stop point and see if she was there.
When I got to the Start/Stop I checked with the event planners. They got out a map to try and figure out where she might end up. I was trying to decide if I should take the truck to search for her when I realized that she had the car keys. Ack!
At that point none of us knew exactly what to do next, and that's when we saw her rounding the corner pulling in to the station.
Whew! Potential disaster averted. I mean, c'mon ... I was about to start lunch without her ... and that likely would NOT have gone over well.
Heh.
Seriously though, I was glad when I saw her riding in. Apparently she had somehow gotten to the middle of the GREEN route when she finally realized that she was "lost." She told me that when she noticed I was gone, that she thought I had taken a wrong turn.
Did she call me to find out where I was?
No.
I even bet she'd have started lunch without me too. Heh.