My husband found his Ruby Tuesday birthday freebie (
wp.me/s1N36Q-nimble
) – turns out he wasn't imagining he had one, but it wasn't for a free entree. It was for two free cupcakes, which really wasn't going to be enough to get us in the door of the restaurant.
As luck would have it, they also sent him a free cheeseburger coupon (with purchase of another entree) this week for National Cheeseburger Day. I'm not sure when exactly National Cheeseburger Day is supposed to be celebrated, but we went last night. I love their All You Can Eat Salad bar, but I haven't been to Ruby Tuesday's since starting my Wheat Free experiment. I decided to look up their allergen info (
www.rubytuesday.com/asse
ts/menu/pdf/informational/
allergen.pdf
) to see if there was anything I should be concerned about regarding their salads and dressings. As I've learned, wheat tends to hide in other things besides croutons and pastas…
Thankfully, they have plenty of wheat free toppings to make a pretty decent salad – and because their bar also includes eggs, bagon, parmesan, and ham, you can be sure your meal will contain enough protein to keep you satisfied for the evening.
The only drawback is we all know how well I do with unlimited quantities of food. I looked over the rest of the gluten free menu, but figured I'd end up feeling disappointed with anything other than the salad bar. So I enlisted my husband's help in making sure I kept my servings reasonable.
Unfortunately, our server shared that the salad bar by itself didn't qualify as an "entree" – so for a few dollars extra, I ordered the Hickory Bourbon Chicken with a side of spaghetti squash. As soon as she brought it to my table, I had it boxed up (which made an excellent lunch for my husband this afternoon). Bonus meal!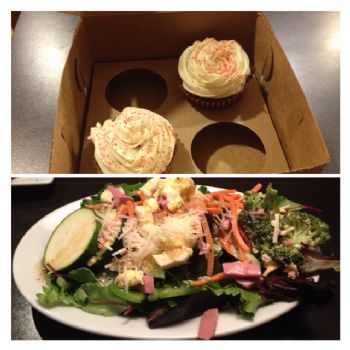 What was even cooler was that Ruby Tuesday honored both coupons, so my husband got two Red Velvet cupcakes as well.