This is about as REAL as I can get on here... but I have nothing to hide from you fine people. I don't expect everyone to be able to relate, but if you can and have found ways to combat the Binge Monster, this one is for you.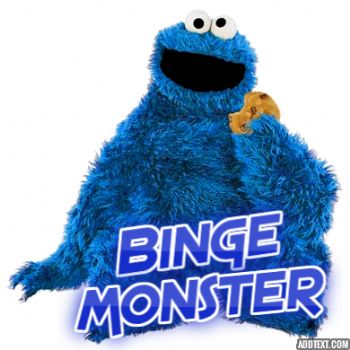 First off, I feel the word Binge can mean so many things to so many people. When I think of a binge, I picture someone in the kitchen just eating everything and it's almost like they are on auto pilot and are not aware of what they are doing. I used to get so caught up on the labels and I'd think to myself "well that's not what I do, I'm not a binge eater." But I am definitely an emotional eater (eat cuz I'm happy, bored, tired, cranky, sad)... and I am definitely an over eater. You don't get to 272 pounds eating normal and healthy amounts of food. But I am done getting caught up on the labels, because the truth of the matter that whatever it is that I do from time to time, is not a healthy behavior. For me it is more of an "I'm bored, I want to eat". Or sometimes there are no emotions involved and it's a simple "I want to eat." I know that I am not hungry, I just enjoy eating and I enjoy food. I was doing a really good job at telling myself "you aren't hungry, you will eat later when you're hungry", but that hasn't been doing the trick the last few days.
This past week my Self Sabotaeur teamed up with the Binge Monster, and really got on my case. You see, even after losing 80 pounds, there is still that little Saboteur

that does not want to see me hit my goal weight. She is really sneaky, because she will disappear for weeks or even months at a time, only to pop up and bring me down in the blink of an eye! When she pairs up with the Binge Monster, they are a dynamic duo that can not be stopped, until now!
I had heard suggestions before of doing activities or something to distract yourself. I've also heard tips for finding lower calorie foods to eat when the urge hits, so that you can come away from it with less damage. I never used those suggestions, because I was so caught up in trying to get rid of the behavior entirely, and telling myself to stop the madness. I think I am at a point where I know I am going to have to battle the Binge Monster for the rest of my life. I am prepared for the fight, because it is worth it, and sometimes I can beat him to a pulp and come out unscathed. But I am looking for any tips you have heard of or might use yourself to fight him when I'm not so strong.
I read about setting a timer for 20 minutes, doing an activity, and if you still want to binge you can when you are done. If that happens I want to make a list of lower calorie foods that I would still like to eat, but nothing that I love or consider a treat because that would really mess me up LOL.
The only food I have come up with is the 40 calorie fudgecicles when I am wanting something sweet. But I definitely to find more foods that would help when I'm wanting something more salty.
For activities I have:
Cleaning
Hula Hooping
Exercising
Painting Nails
Reading a book or magazine
Staring a movie
Spending time thinking about how I felt at 270 pounds
Coming on Spark and giving goodies and commenting my spark friends
My binges or overeating days have definitely lessened and lessened over the last year and a half, but I really feel like I need a plan of action for when those days do hit. I need to realize that the urge may always be there and that I can't simply trick myself into thinking it'll go away on it's own... so that is why I need your help in putting a firm plan in place. Any suggestions on foods, activities or any other tips. The goal here is to not have the binge happen at all, but the list of foods is the back up plan for when all else fails.

I have little/no interest in seeking professional help on this issue. There is nothing wrong with seeking help for these things and I think it could be very beneficial to some. I feel like I am really self aware and understand a lot about why I do this, which is why I am researching and looking for tips to help work on it. This has also gone from something I did all the time to something that I can go months without doing, so I don't think it's a huge enough problem to go that route. It is just something that happens from time to time and I'm looking for a plan of action when those days come.

Edit:

Interesting tidbit, even when the binge monster hits I still track all my food. If it is something that would typically be weighed I will weigh it and eat one serving. The issue of course is sometimes I go back in for yet ANOTHER serving. So I am realizing that if I am in the frame of mind to TRACK it and physically weigh out the portion, maybe while I'm weighing said food I really need to RETHINK what I'm doing and work on putting back all or at least some of the food I'm dishing out. (This is just a note to self really, I really want to work on this. :)