Saturday, September 21, 2013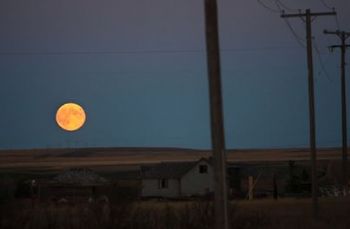 Old farm outbuildings and harvested wheat fields in the background. Look at that moon!
This weekend is a big deal here in Havre. It's called Festival Days but it's really kind of a celebration of the harvest bounty. There will be a pancake breakfast and a parade. The bagpipe band from Alberta comes down from Canada. The library has a 4 day used book sale. Books for a buck-a-bag! I have donated 23 boxes and swore not to buy a single one! There is a huge quilt show. Gorgeous quilts. There's a college football game and a high school football game, bon fires and all that stuff. It will be the final Farmer's Market of the season. I'll miss that! There are lots of rummage sales and a craft show. I have it on good authority that the Popcorn Ball lady will be returning for the 25th year! Numbered buttons are for sale and the numbers are drawn for prizes from the local businesses. Most small Montana towns have a weekend like this. The Chokecherry Festival or What the Hay-where local farmers build elaborate hay sculptures in their fields and you drive down a road and come back into the town and vote for your favorite. Next weekend 25 miles east of us is the Sugarbeet Festival...they don't grow and process them anymore but the old Sugarbeet factory is still there and the high school team is still called the Sugarbeeters. The local churches are going to start having their harvest dinners soon. Usually turkey with all the trimmings and the occasional roast beef with all the trimmings. It's how we celebrate the end of the summer harvest bounty and it signals that it's time to get ready for winter. And the heavens watch over it all. Check out that moon again!