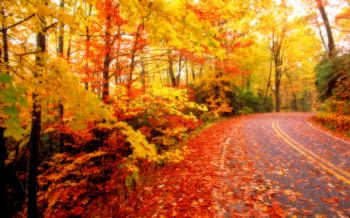 With less than two days to go to the Official Autumnal Equinox, Queen AmQ of Queen AmQ's Healthy Weight Management & Fitness Land did not EXACTLY reach her original goal for that auspicious day. Today is the last official weigh-in and far from reaching 120 as we had expected, we gained a pound.
BUT THE PLUCKY WEIGHT MANAGEMENT MONARCH CLAIMS VICTORY NEVERTHELESS!!!
Queen Am hath been holding her royal weight in the 120s for 167 days and NOW has OFFICIALLY and in honor of her Autumnal Equinox OFFICIAL weight of 122.2, declared in the Land an OFFICIAL maintenance range of 120-125 forthwith.
Our goal going forward here in the Queendom is to continue to maintain and stabilize our weight in order to better manage our health situation.
Plus, well, we just really like being in the 120s and an aim to stay in that range is a good place to be.
That. Is. Pretty. Much. A. Wrap. On. The. Autumnal. Equinox. Challenge.
Moving on to the next season and transition is always bittersweet, like autumn.
Sometimes it is really scary to look forward to what the future holds, but that is life and Her Royal Majesty liketh well to always look forward and be thankful (hmmm, Thanksgiving coming).
Sometimes what lies ahead is not what we want but sometimes we find that life surprises us and gives us a happy twist or turn or bend in the road. Sometimes it doesn't. It is all good.
Keeping to a stable weight really helps Queen Tess to cope so she declareth she will seek to be flexible with the range, changing it up or down as situations or health requireth.
VICTORY!